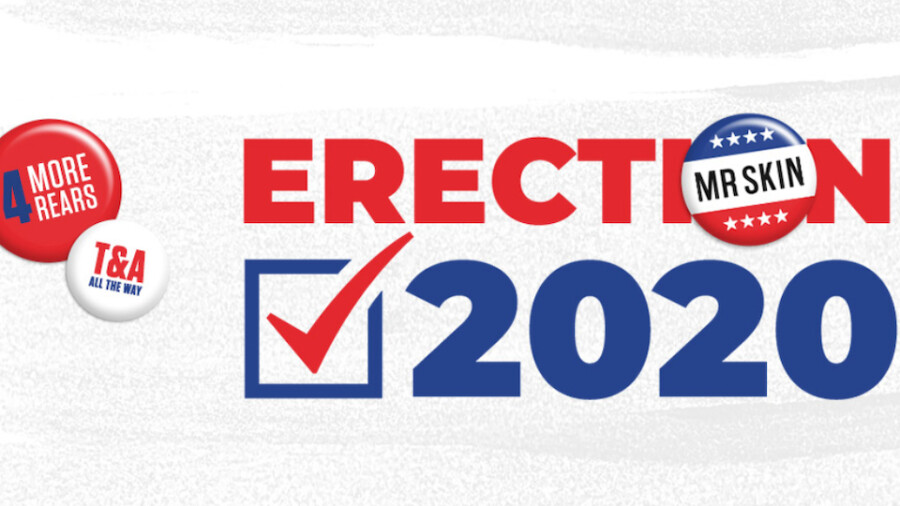 CHICAGO — Mr. Skin and Mr. Man have announced the results of their election-themed most-searched "President Erect" campaign, with Salma Hayek and Nick Jones taking the top slots.
"The breast-taking survey," said a Mr. Skin rep, "sponsored by MYLF.com and highlighted in a colorful infographic at MrSkin.com, shows that the clear winner this year. The 'President Erect' is Salma Hayek, who won the popular vote in 11 states for her standout work in 11 nude roles, 14 nude scenes, 11 bare breast scenes, six bare-butt scenes and one full frontal (for 'Frida')."
"Right behind her on Salma's juicy tail is the legendary Dolly Parton, who was the second-most-searched Mr. Skin celebrity in five states, including Louisiana, Oklahoma, North Carolina, Utah and Tennessee," the rep added. "Natalie Portman was the third most popular star, with top searches in Colorado, Michigan, New Jersey, New Mexico and South Carolina."
Other top star searches according to Mr. Skin include Jessica Biel, taking Arizona, Minnesota and Pennsylvania, Star Wars' Daisy Ridley with Alabama, Alaska and Vermont, Ana de Armas with Washington, Maine and Ohio, Margot Robbie with Iowa and Nebraska, Rachel McAdams for Idaho and Kansas, Elle Fanning for Maryland and New Hampshire, and Alexandra Daddario with Indiana and South Dakota.
Nick Jonas Sweeps
As for Mr. Man, although they were still tallying up the numbers for their version of the content (with sponsorship assistance from Missionaryboys.org), based on the sheer number of searches and page views, "fans were a sucker for Nick Jonas, sweeping 21 states to take the title of 'President'," a rep revealed.
"Coming in from behind is leading man Zac Efron, with the backing of eight states, including California, Hawaii, Maryland, Massachusetts, Michigan, Minnesota, North Carolina and Washington," the Mr. Man rep continued.
Superman's Henry Cavill brought in the votes in four states: Idaho, Kansas, North Dakota and Wisconsin. Notable mentions include Channing Tatum, taking the states of Delaware and New Mexico. "Aquaman"/"Watchmen" star Yahya Abdul-Mateen II took Alabama and Rhode Island, while Robert Pattinson is a top search in Vermont and Wyoming.
Both Mr. Skin and Mr. Man noted some random search surprises in several states, including Amy Adams for North Dakota, Amy Schumer for Hawaii, Drew Barrymore for Arkansas, OG Wonder Woman Lynda Carter for Kentucky, Omarosa Manigault for Rhode Island, Pam Grier for Mississippi, The Brady Bunch's Maureen McCormick for Delaware and horror queen Sheri Moon Zombie for West Virginia.
Harry Potter star Danielle Radcliffe is big in Maine, as is Cole Sprouse in Alaska, Dwayne 'The Rock' Johnson in West Virginia, Hayden Christensen in Iowa, John Cena in Nevada, Justin Theroux in South Dakota, Nick Cannon in South Carolina, Machine Gun Kelly in Montana, Timothée Chalamet in Oklahoma, Jamie Bell in New Hampshire and Tom Hardy in Arkansas.
To view the entire lists, visit Mr. Skin and Mr. Man.
For more from Mr. Skin and Mr. Man, follow them on Twitter.