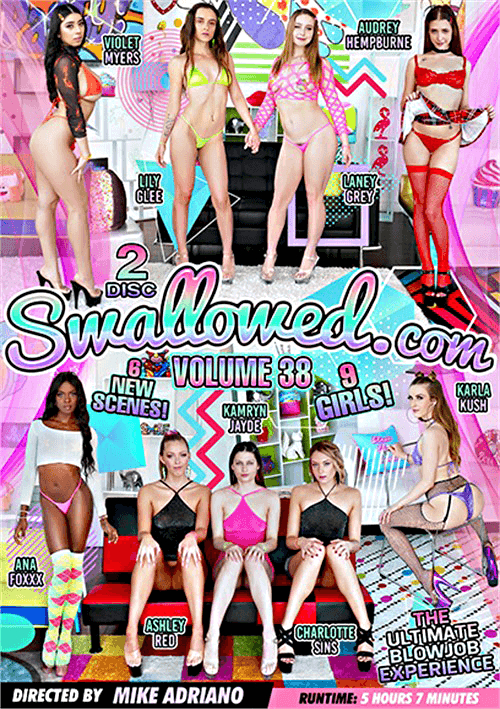 Hey, if you're looking for the ultimate in salacious deepthroating, then look no further than Swallowed.com, care of Mike Adriano and Evil Angel, where — in Volume 38 — you get nine (count 'em nine!) ladies swallowing gents to the hilt/bone; two of those fine oral-minded specimens descend on one lucky pud; while (look out!) three other penis-famished vixens slurp down an even more-fortuitous cock during one saliva-drenched hose-inhaling session; and we also are ultimately treated with the luscious figure and wonderful attitude of super slut Violet Myers.
So let's dig right into this awesome oral-fest, care of some equally awesome Valley vixens, shall we? First up, gorgeous Ana Foxxx blows Alex Jones, with Ana getting tons of spit everywhere and making exquisitesounds as she's intensely face-fucked. Some great underneath-the-action shots, too, where the fluid just gushes down at the camera and all over Ana's sweet body (we, in fact, get a lot of that much-appreciated camerawork throughout the movie). Ana also has no problem (yah!) eating man-ass. And let's not forget how she shines when giving an upside-down deepthroat. Damn! And we've still got eight more cock-crazed suckettes to go!
Cute Audrey Hempburne takes on the returning Alex Jones' bone, where it's fun watching her try to stuff that behemoth all the way down her gullet. Next, one of my faves, Karla Kush, looks amazing as ever, hooking up with the seemingly ubiquitous Alex; Karla nearly drowning in her own fluids, in-between cock-chokings and pussy squirts. She still looks superb, by the way, even after the rigorous rod reaming of her highly compliant — and intuitive! — mouth.
And we soon get our two-girls-on-one-gland scene, with pretty Laney Grey (dressed in pink) and sexy Lily Glee (in green) blowin' Brad Newman's knob, with both ladies each taking turns devouring Brad-boner while the other one is simultaneously worshipping his backside (nasty!); the ladies similarly excelling at upside-down deepthroatings, as Brad goes back and forth 'tween their talented throats. "So sloppy! I love it!" proclaims the cute and dirty Laney. The charming young ladies share sperm oh so gracefully, too.
Next is a movie highlight, with three total babes — Ashley Red (the tallest of the three babes), Kamryn Jade (in pink), and Charlotte Sins (flaunting two-toned brown/blonde hair and tattoos along her arms) — shucking down Brad Newman's salami (I'm surprised he doesn't die from ecstasy right there on-camera!); after, that is, the ladies eat each other's ass and pussy; and, yes, every girl takes a turn (and it's all happening simultaneously) sucking dick balls-deep, lathering the sides of that rock-solid (saliva-cocooned!) shaft, and eating manhole, as well as separately taking that lovely upside-down-deepthroat route. Whew! And, yes, this torrid threesome also shares spermatozoa quite well. Good girls!
And we end with probably my favorite scene, as big-jugged (they look incredible!) brunette Violet Myers — who's got an amazing butt, too! — takes on Rod Piper; with Roddy worshipping her pussy and anus, after which she gets majorly face-fucked (look at all o' that saliva cascading down onto her prize chest bazookas, which are deliciously large and long); Violet doing a truly fantastic job during her own upside-down-while-getting-her-throat-obliterated interlude. Love her! Definitely wanna see more of her, too!
This blowjob movie builds and builds in filthiness, starting with the amazingly talented Ana Foxxx, then doubly climaxing with the outstanding three-chicks-on-one-dick episode (with naughty nymphs Red, Sins and Jayde) and the truly cock-erupting-Violet-Myers sessions. Get it!