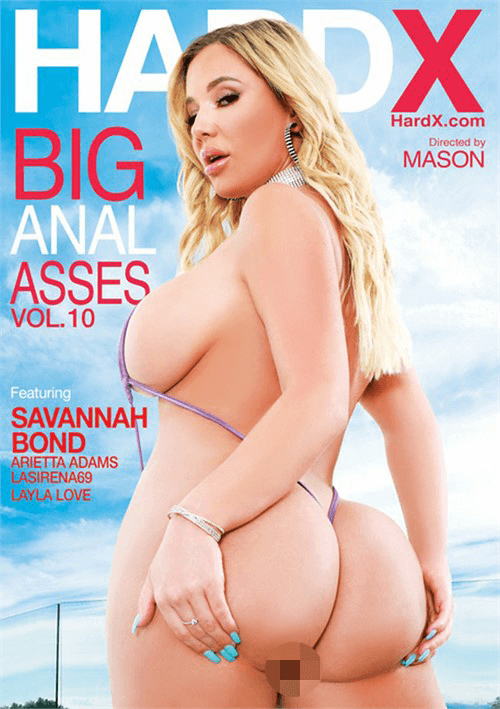 If you like women with large, pear-shaped, bubble-shaped booties who live for taking it up the backside, then "Big Anal Asses" is your ticket to A-Land, with Volume 10 containing one insane, truly mouthwatering smorg-ASS-bord of juicy, slutty, ass-fuck-minded babes from LA-LA Land. All of these anal princesses are ridiculously delicious whacking fodder, in terms both their looks and attitude.
Take Savannah Bond for starters, who looks as scrumptious as ever, what with that luscious figure. I mean, the blonde hair, behemoth breasts, huge ass, large lips, massive sexual appetite … Bond-baby is porn personified! Here, she gets her booty properly blasted out care of San Fernando Valley hit(-that-pit) man Ramon Nomar. After we're treated to one helluvan rousing session of Vanna getting all slicked down (with water, oil, whatever), she's ready to get royally reamed by take-no-prisoners Ramon, who attacks Bond-butthole via the fast-and-furious method, as in hard, with warp speed, and fucking deep! Nomar then makes Vanna-baby gag on his sword. Her butt cakes mesmerizingly rock and reel during cowgirl-anal. And both Vanna and Ramon rub her clit wildly during reverse-cowgirl-anal, followed by some searing spoon-anal, a raunchy repeat of cowgirl cave crammin', and more deliriously decadent doggie drilling, during which Bond's butt cakes shake, while our precious-as-ever Vanna literally screaming with lust. Mama!
But wait! We've still got three more foxy femmes who shiver when getting the sphincters on their protuberant posteriors seriously stick-stuffed! For one, Layla Love has got an outstanding pair of butt bongos (and she's cute, too!), letting Mick Blue bang her bottom via doggie, reverse-cowgirl (shot like doggie, and I love how Layla moans, while inaudibly muttering as she's overtaken by lust, after which sucks that well-worked McDick), cowgirl (she likes getting butt-slapped), missionary (deep and powerful), side-ways spearing ("Yeah, fuck that ass…nice big ass?" she purrs), missionary (look at those thighs and check out those gapes!), then back to cowgirl, with Mick blowin' dick-slick all over this hot chick's lips. Whew!
Red-haired Arietta Adams is another big-bootied cutie, with ram-her-with-that-bone Ramon returning for one fiery fuckdown; anal highlights occurring during doggie (Arietta's disappearing eyes tell the hole story), cowgirl (love her floppin' ass pillows), spoon (ditto), more of that sideways butt-banging' (check out Arie's little tits undulating, too), with a return to cowgirl, before Nomar ejects Ramboner sauce all over Ari's tongue; our nasty girl downing the jizz within seconds of receiving her pasty present. And she still looks cute after all o' that potent posterior pounding. Ari rocks!
Lastly, LaSirena69 steam-teams up with Mick Blue, with La really showing off her assets during doggie-anal (a gonzo highlight, as those killer cheeks cascade ever so animatedly), reverse-cowgirl (again, shot as doggie), missionary-anal (also love Si's big tits, as they quake all over, while she seems to sexually lose it), and numerous dick-out-of-ass cleanings with Si's ever-curious mouth; McDick ultimately letting loose as a direct result of Si's cock-incinerating caboose after a spirited session of cowgirl ass-hammering, with Si-baby becoming nearly cross-eyed with lust, afterwards (what a marvy slut!) continuing to suck and suck on that drained dick. Smokin'!
From beginning to end (and chockfull of many amazing ends!), "Big Anal Asses 10" is one awesome gonzo, with all four featured curvy, carnal-crazed butt-fuck princesses proving what m-ass-terpieces they truly are in the realm of porn. And don't you just love that cover with round-in-all-the-right-places Savannah? Slurp!