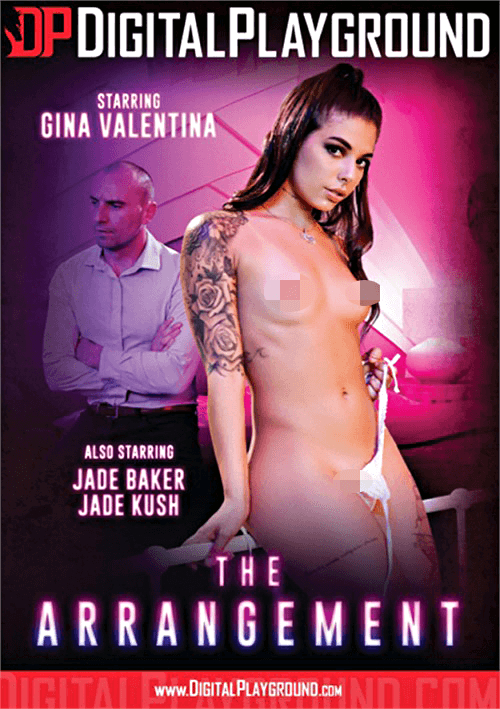 In this Digital Playground comedy/drama, the older Stirling Cooper plays a businessman who hires a hot young cam babe, Gina Valentina, to play his daughter in order to impress some clients who are "family-oriented" with some saucy results, especially since it features the always-appreciated, downright luscious, truly gorgeous Ms. Valentina, who, thankfully, appears in all three sex scenes.
The girl-girler starting off "The Arrangement" is totally volcanic, in that it includes the delicious Valentina (wildly seductive and not a bad little actress), as she sluts-out in a restaurant supply room with the curvy, highly fuckable Jade Baker. In the story, Baker plays an uptight wife of one of Cooper's clients; both Jade and Gina meeting in the restaurant's bathroom (during a business dinner), then, after some light kissing, moving to the more private — and bigger! — supply room where they get filthy. Check out how Jade and Gina go crazy on each other with their separate tongue-lappings during individual missionary positions. And, whoa, didn't realize Baker had such killer tits.
When Baker leaves the (now undoubtedly newly scented!) supply room, Cooper confronts Geen, paying her cash to fuck one of his clients that night in their hotel, so as to close his deal, to which Valentina happily agrees, being the marvy little nympho that she is; but we also get the impression that Valentina sincerely likes Coop — and vice versa.
After Coop shows that he's jealous seeing Geen with another man (namely, the client himself, whom Valentina has agreed to film with her phone in her hotel room so Coop — in the room next door — can see, as he, quite voyeuristically, suggested that she do so), Gina, as an sort of apology, uses the money she really didn't earn from Coop to hire her girlfriend, the wonderfully delectable Jade Kush, to suck/fuck Stirling, who's more than delighted to hump her in his room, as Geen watches the scalding proceedings from a nearby sofa chair, while she diddles herself. Coop gets a deep suck-off from Jade, reams her good during missionary and doggie, while cowgirl is just as awesome as doggie, as it shows off that fine Kush tush; with Coop blowing into her mouth. But, afterwards, an emotionally confused Coop calls off his "arrangement" with Gina.
Next is the movie's best scene, as Gina and Coop finally get down in one scorcher of a suck/fuck, including some awesome anal. After Coop "arranges" to see, for a price, Gina one more time, she tells him her address, the neon-lit insides of which looks like some kind of fantastic whorehouse, with Gina upstairs waiting for him on a double-poster bed. Cooper is uptight, nervous, and, in turn, believable in his role. A good actor — just like Gina, who's both impressively charismatic and seductive. In this climactic sequence, Coop becomes dominant (Geen digs it!) making Valentina first give him an amazing bj (lots and lots of saliva, with no hands). "Back of your throat," he tells her. Talk about some wild noises from Gina as she's seriously face-fucked. After he eats Gina's sopping pussy, Coop bangs her missionary with some kinky choking, then doggie (a barnburner, with that perfect Valentina butt); spoon being just as incredible, Coop at this point sticking it up her ass (for a good long time), followed by reverse-cowgirl-anal (with Geen ecstatically bouncing on raging hard-on); Coop eventually busting his nut all over Valentina's face hair, eyes, nose and mouth. Mama! So what happens to the "arrangement" afterwards? Gotta check it out and see.
With a fun/engrossing story, believable characters, great-looking women, expert videography, molten sex, fine direction from porn starlet Lena Paul and the inimitable Gina Valentina, "The Arrangement" is one of the best features I've seen all year. It's not only a good pick for curious couples, but excellent for hardcore viewers, especially since it includes those marvelously decadent Jade Kush and (natch!) Gina Valentina suck/fuck scenes. And, yes, the movie does build and build on an erotic level with each suck-cessive episode. Absolutely worth checking out.