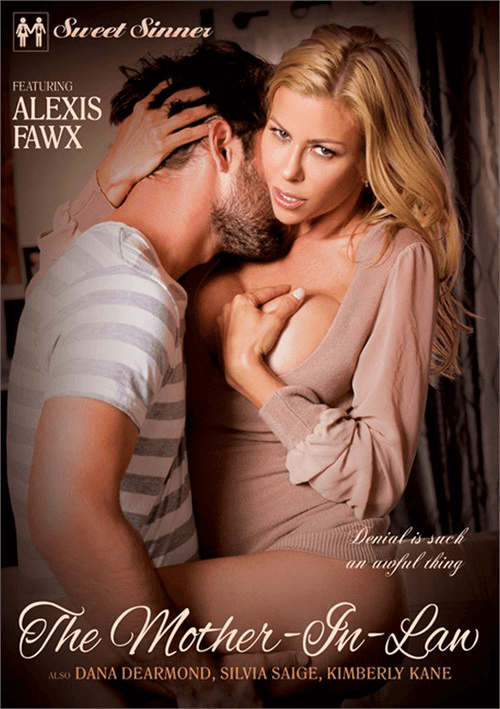 Here's an interesting combination of vignettes and straight-up gonzo sex, featuring MILFs in their 40s/cougars in their 30s, with all four lusty ladies putting in horny performances, though the winners for my money/honey are blonde/big-boobed Alexis Fawx and brunette/big-assed Dana DeArmond.
45-year-old Alexis begins the molten MILF proceedings with one hard-on-inducing romp, here paired with the younger Logan Pierce, playing her son-in-law who has the hots for her, until he finally visits Lex one day and happily consummates their "relationship." Aside from a distinctly wet blowjob (repeated throughout her reaming), Lexis shines when squatting on Pierce's face, feeding him her sopping snatch; then there's some squatting-cowgirl (she likes to squat!), allowing you to fully appreciate that firm Fawx fanny, as she bawdily bounces on Pierce-pud, then gladly grinds her wet twat all over Logan's log; followed by sizzling spoon, during which Fawx's marvelously augmented juggs are on full display, with our boy busting his nut across those same bodacious breasts.
And, seriously, those titanic tits will immediately stiffen yer willie, as the size and structure of those jugg-a-roo's are so alluring, while they have a nice spring to 'em. Hell, everything about Fawx is fantastic. Flat stomach. Tight ass. Firm legs and thighs. Passionate disposition, including plenty of kissing. Lastly, you'll also dig this scintillating segment's subtle twist of an ending.
Next is a searing all-sexer with 41-year-old fox Dana DeArmond, who looks terrific herself, here getting seriously ploughed on a sofa by Damon Dice. Dana delivers a slow and nasty suck-off, at one point sticking her fine big booty out (well-contrasted against a black pair of garters). All positions with Dana rock, but her best moments (aside from those frequent fluid-drenched deepthroatings) are doggie, in which our girl heatedly pants as our boy slaps his balls against her clit while driving Damon-dick home, her all-natch boobs swirling, as her eyes disappear into her skull from horniness; rocking cowgirl, with that juicy ass wildly vibrating; and steamy missionary, as Dana's little tits wave to us while Dice-dick dynamically destroys delightful (and fully delighted!) DeArmond.
The other two scenes with Silvia Saige (36) and Kimberly Kane (37) are certainly exhilarating (particularly the well-plotted storyline and potent kitchen-sex in Saige and Lucas Frost; while it's great seeing Kendra Spade even in a non-sex role, as she's just so delicious; and I similarly enjoyed witnessing Kimberly getting seriously doggied — nice flying ass cheeks there, Kim-Kim — during her gonzo scene with Richie Deville), but the main events here most definitely feature older-and-bolder Alexis and Dana. Such insatiable tramps. Love ya, ladies!