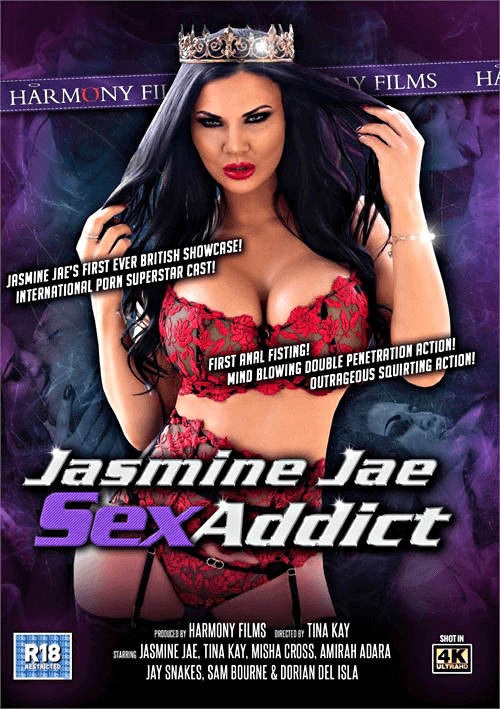 British porn superstar Jasmine Jae collaborates with director/performer Tina Kay to bring audiences her first British showcase, in which she explores some of her edgiest desires.
An eight-year veteran of the adult industry, Jasmine Jae has seen her star rise steadily since entering the business, but never has she had a showcase dedicated solely to her until now. Partnering with reigning Foreign Female Performer of the Year Tina Kay, Jasmine finally gets the chance to bring her dirtiest fantasies to life for her fans.
Kay really does a nice job of putting Jasmine front and center here, setting the tone perfectly from the start with Jasmine's narrative introduction to the project. We all know exactly what we're going to get right from the start. "My name is Jasmine Jae, and I have a dirty little secret. I am a sex addict."
Jasmine Jae, Jay Snake, Dorian Del Isla and Sam Bourne:
The scene opens with Jasmine (clad in a black, lacy bra with matching garter belt, panties and stockings), being fed fresh strawberries and worshiped by Bourne, Isla and Snake. Wow is Jasmine full of attitude here! She initially stuffs Bourne's face into her cunt, then shoves him away like rubbish so she can choke herself on Isla and Snake's cocks. And wow does she get absolutely wrecked by these two studs!
There's a very cool moment where she's bent over taking one guy from behind while stuffing the other down her throat, then she flips her ass around to switch and I have to say I've never seen that kind of position switching before but my word is it wanton! Snake also fucks Jasmine's so hard she squirts like a geyser, and the DP is hard, fast and merciless. Bourne returns with another fresh strawberry after Isla and Snake are spent, which Jasmine promptly stuffs in her cum-drenched ass before devouring it.
Jasmine Jae, Misha Cross and Sam Bourne:
Tina Kay does another great job crafting this scene, as she allows Jasmine to really capture the audience with her sultry movements and smoldering gaze while a soothing, yet seductive, musical accompaniment plays. This is really great stuff to be honest. Kay exhibits the patience as a director not to rush this portion of the scene, but rather allowing Jasmine to build anticipation through her performance.
When Jasmine is finally ready for the fun to begin, she dings the service bell with her black stiletto-clad heel and a sexy Misha Cross enters the room as a helpless Sam Bourne sits tied to a chair. I love the power dynamic here; Jae and Cross are in complete control, and Bourne is very clearly their submissive, making this somewhat of a domme scene without the whips, paddles and cuffs one is accustomed to seeing in such scenarios.
Holy cow what an impressive feat these performers pulled off with Jasmine riding Bourne atop the narrow desk while Misha stood above her and let Jasmine munch on her muff! Not only did they avoid a balancing disaster, but holy shit the shot was hot! The ladies jack Bourne to a creamy finish together, rub his cum all over his shirt, and send him away. The whole scene screams power fantasy.
Jasmine Jae and Dorian Del Isla:
This time Jasmine looks pure and pristine dressed in stark, white, lacy underwear and stockings. The color contrast between her clothing and her raven black hair is striking, but really adds to the innocent vibe surrounding her. Then she peels her panties down to reveal a jeweled butt plug stuff up her ass and her purity melts away like butter on a hot skillet. Jasmine hangs her head off the side of the desk and lets Dorian pound her throat liberally before giving him a go at her asshole which he hammers like a piston multiple positions including a very raunchy piledriver.
Jasmine Jae, Tina Kay and Amirah Adara:
Another scene that focuses heavily on anal, this encounter features Tina Kay fisting both Jae and Adara in a bathroom. This is the only scene in the movie where Jasmine isn't the lead; that role clearly falls on Tina here. She dictates the action and sets the mood with her energy from the jump. Watching her coach Jasmine and Amirah through a double-sided dildo tandem ass fuck while stuffing their throats with separate dildos is very intense, as is the way she fucks Amirah's ass with a dildo that's rammed down her own throat.
Jasmine Jae, Tina Kay and Dorian Del Isla:
The final encounter opens with some fantastic exterior shots of Jasmine strolling the opulent grounds before finding her way inside to an expectant Kay and Isla. Dressed in sparkling black body suits and ornate masks, Jasmine and Tina waste little time descending on Dorian in a whirlwind of sexual savagery. Jasmine is the clear center of attention in this scene and all the action centers around her. Kay certainly gets a good dicking for her pleasure, but it is Jasmine who captures the pure spectacle of the lascivious fucking taking place.
Fans of Jasmine Jae are going to adore this showcase. With Jasmine appearing in every scene and pushing her boundaries to their limits, fans will find themselves enthralled with the combination of intensity, sensuality and fetishization explored here. Tina Kay once again proves herself a skilled director and the rest of the cast delivers fine performances across the board.