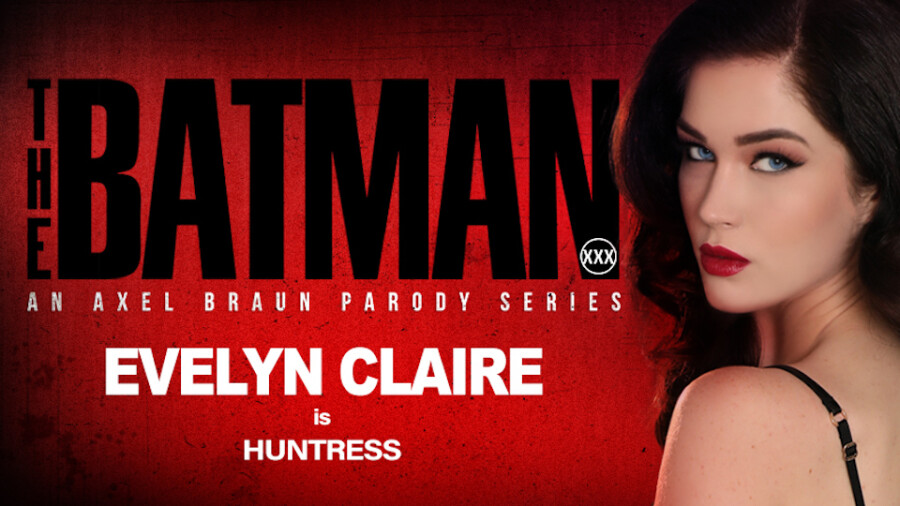 LOS ANGELES — Axel Braun has announced that Evelyn Claire will portray the crossbow-wielding urban warrior Huntress in "The Batman XXX: An Axel Braun Parody Series."
"The Batman XXX" is Braun's latest DC AxelVerse entry for Wicked Comix, the studio behind hit parodies like "Batman v Superman XXX," "Justice League XXX," "Supergirl XXX," "Deadpool XXX," "Suicide Squad XXX," and the 2020 XBIZ Awards winner for Best Art Direction and Best Special Effects "Captain Marvel XXX."
"Casting Evelyn was really a no-brainer," said Braun. "I mean, aside from the fact that she may very well be the most beautiful woman on the planet, she is also a phenomenal performer and pretty much a dead-ringer for Huntress."
Braun said that after she read for the part he "immediately realized that she is also a very professional and gifted actress who truly understands the character — so I basically won the jackpot!"
Rectifying the Mainstream's Shortcomings
One of DC's most celebrated antiheroes, Helena Bertinelli, aka Huntress, is the only female DCEU character to have been a member of the Justice League, the Outsiders and the Birds of Prey.
"Yet despite her impressive resume, the Avenging Archer has yet to be portrayed on the screen with the authenticity that comic fans demand and deserve," commented a rep. "With his unparalleled reverence for the source material and a perfectionist's eye for detail which frequently results in better costume designs than their theatrical counterparts, Braun is once again setting out to rectify the mainstream's shortcomings."
"As a fan, it's always disappointing when a multi-million dollar production can't get the costumes right," lamented Braun. "I mean, the Huntress has never appeared in a live-action television series or movie with her classic comic book look, and that's just wrong — so I'm gonna go ahead and fix that. Because I care."
"I'm so thrilled to be taking on this amazing role", said Claire. "Axel's passion and attention to detail are literally unmatched, and working with him on a big project has always been a dream of mine."
"This series is gonna be incredible, and I am looking forward to portraying this complex character and going head to head with Batman," she added.
A New Cowl
With Seth Gamble set to portray the Dark Knight, pre-production on "The Batman XXX" keeps moving at warp speed, with the director currently working on a Batsuit poised to take his fidelity to superhero source material to the next level.
The filmmaker recently tweeted a photo of a long-suffering Gamble covered in plaster while getting a life cast so that Braun could design what he called "the most awesome cowl ever!"
"There are many Batman cowls out there, and some of them are incredible," said Braun, "but it was important for me to create something truly unique and that would be a perfect fit for Seth. This is going to be a long shoot and he's gonna be wearing the cowl for most of it, so I wanted to make sure not only that it looked cool but also that it would be comfortable, and the only way to achieve that was to tailor it specifically to his head."
While its mainstream counterpart's release date keeps being pushed well into 2022, "The Batman XXX: An Axel Braun Parody Series" will be available next year, exclusively on wicked.com.
For more from Evelyn Claire, Axel Braun and Wicked Pictures, follow them on Twitter.