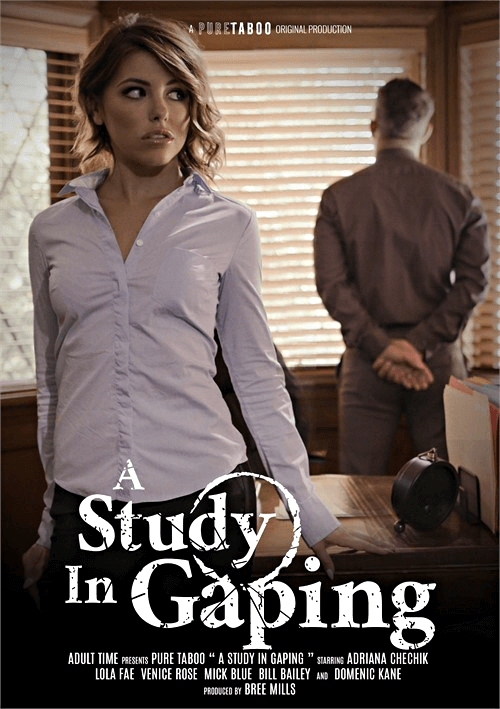 As the title of this anthology less than subtly states, "Gaping" is the lesson for the day in two intensely filthy tales (of female tails!) from Pure Taboo, featuring the wonderful anal talents of Adriana Chechik and Lola Fae.
In the movie's eponymous story, Mick Blue plays a professor obsessed with the concept of gaping female anuses, with Adriana Chechik, his ass-sistant, playing the prof's latest test-subject, with gnarly results, to say the least. Blue is believable, playing the twisted academician; while Chechik is excellent as the, at-first, shocked student and then the take-to-butt-fucking-like-a-duck-to-water student whose anus is quite elastic, indeed. Best moments (aside from the scene's engaging build-up) include watching Aide bent over, getting her delicious anus fingered by the probing Blue, producing numerous gapes with a fat-ended glass dildo and then a thick black butt plug; Chechik's usual amazingly saliva-drenched deepthroating; doggie-anal, producing brilliant gape after gape; reverse-cowgirl-anal delivering more of the same decadent derriere action; and Blue blowin' McDick mayo into Aide's big, wide, hungry mouth.
In "Gaping Training," tattooed young wench Lola Fae is the next gapin' gal; Lola showing up, butt plug already in her ass, at the somewhat remote home of Bill Bailey, whom she calls "daddy," for some, eventual, heavy-duty backdoor/butt-winking action. Wanting to show off what a great "piece of (young) ass" he has in the form of Lola, Mr. Bill takes out the butt plug right there outside his home and starts finger-reaming her booty hole, getting her asshole "trained" for his dick. But, alas, she doesn't feel her butt's quite ready for his raging hard-on just yet, much to the chagrin of jump-'er-bones Bill. Yet one night, Lola feels completely up for getting her virgin butthole Bailey-busted, showing up at Billy's pad, wherein lusty Lola's first spoon-analyzed (I love her groans of pleasure/pain), which then smoothly shifts to missionary-anal, followed by more spoon-anal (what a fantastic backside Lola possesses!), then doggie-/reverse-cowgirl-/jackhammer-anal, with ATMs, moans, groans, rimmings and (yes!) gapes throughout; Bailey eventually blowin' Bill-swill all over Fae's crack. Fae is both cute and sexy, making her ass-blasting scene quite the exciting venture in vice. "Have I been a good little anal slut for you today, daddy?" she sweetly asks Bailey before he drops yet another bomb on her. Sorry, no spoilers here. Gotta see for yourself.
Thanks to the well-written stories by 3-X West (with satisfying twist endings), solid direction, as well the marvy looks/nasty sexual dispositions/choice acting from Chechik and Fae, "A Study in Gaping" is worth checking out by both X-ploring couples and hardcore viewers alike.