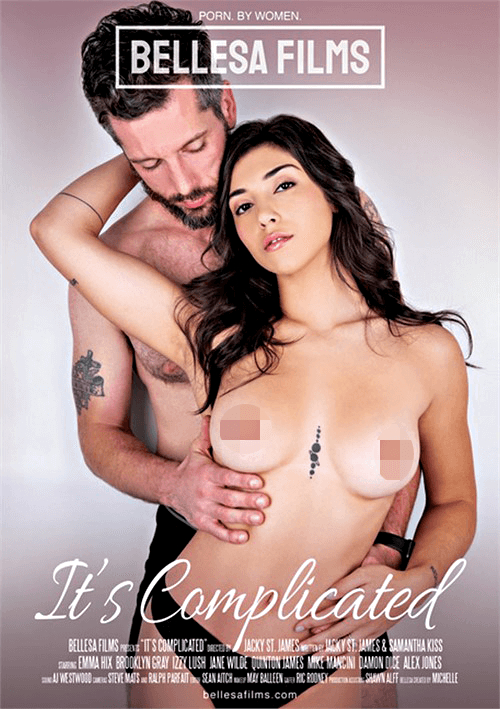 A collection of short stories from writers Jacky St. James and Samantha Kiss featuring couples navigating relationships with difficult boundaries.
"Taking It Slow" (Emma Hix and Quinton James):
Emma and Quinton have decided to give their relationship a second chance after things didn't pan out the way they'd hoped the first time around. Believing the way they rushed into sex led to their initial problems, the couple makes the difficult choice to abstain in order to give their relationship a chance to grow beyond the physical. One night after a wonderful date, Quinton lingers in Emma's arms clearly hoping she'll ask him to stay. After some back and forth where both struggle to stick to their guns, the couple gives in to the overwhelming sexual energy between them.
The best thing about this scene is the way Emma communicates with Quinton. She tells him what feels good, what she wants him to do to her specifically, and when to keep going or change his technique. There's something incredibly arousing about a woman taking charge of her pleasure in the bedroom, and this scene delivers on that front in spades. I also love the overhead shot of Quinton pumping Emma in missionary while she wraps her legs around him. His ass and hips look great as he thrusts into her. Missionary is often used unfairly to describe boring sex, but I find it to be one of the more erotic positions and nowhere is it more evident than this moment.
"Rough Love" (Brooklyn Gray and Mike Mancini):
Brooklyn and Mike are lovers who haven't been connected for a long time. Brooklyn misses the excitement and intensity of sex with new people, and Mike is frustrated with the fact that she's fucking other guys. Finally reaching his breaking point, Mike demands Brooklyn show him what she wants that he's not giving her, which leads Brooklyn to admit that what she craves is more intense sex. This scene is all about Brooklyn finally getting to be the nasty slut she loves to be with the man she wants to be with. She guides every aspect of the sex and it's very steamy. She tells Mike how to choke her, how to spank her, how to fishhook her mouth and how to pull her hair.
She instructs him on what words to say to her to get her off while he's fucking her. She's effectively a live manual to her pleasure and all Mike has to do is follow the instructions. I really could watch Brooklyn Gray perform all day. This woman is beautiful and just lights up the camera. There's a very strong submissive element to this scene, but the twist is, even though Brooklyn is the one being dominated physically, it is Mike who is the true sub because he is obeying Brooklyn's commands. I thought that was a very unique subversion of expectations.
"Rule #1 – No Rules" (Izzy Lush and Damon Dice):
Izzy and Damon are friends with benefits who conduct their arrangement under a very specific set of rules; no kissing, no sleeping over and no emotions. Unfortunately for Izzy, those parameters just aren't enough for her anymore and after suffering in silence long enough, she decides to make her feelings known to Damon. The result is a mid-afternoon booty call that turns into a passionate lovemaking session. I need to give credit to Jacky St. James for the overhead shot of Damon fucking Izzy with her thong still on. It's common to see women leave their panties on during sex in porn, but I've never seen it captured from above like this. It definitely adds an element of eroticism to the encounter. I also really loved the way Izzy raised her ass to meet Damon's thrusts when she was lying face down on the bed. That position is always a winner and Izzy looked wonderful doing it.
"No More Mr. Nice Guy" (Jane Wilde and Alex Jones):
After a party that ends with Jane surprisingly failing to land a hook up, her friend Alex decides to walk her home. When he doesn't take the heavily implied invitation to come in for a sexy nightcap, Jane hits him with the atom bomb of friend-zone compliments; she calls him safe and inoffensive like a wall freshly painted in beige. Why doesn't she just rip his heart out and stomp on it right there! Luckily for Jane, Alex does step up and take advantage of the moment, following her inside for the fuck of his life.
Jane's got a great ass and the doggie here is pretty fantastic, but I really want to point to the incredible tease moment with Jane holding Alex's cock against her clit and making him rub her into a frenzy with it. That was really erotic and I would love to see that kind of stuff more often in porn. Also, Alex gets seriously deep in Jane's pussy towards the end, with some long, impactful thrusts that leave her gasping for air. It's a great example of a director and the performers showcasing intense sex without the need for rabbit speed hammering.
This is a nice collection of short stories showcasing a variety of relationships in potentially compromising states. I like Jacky St. James and Samantha Kiss as writers, and I think all four tales highlight their strengths. The character development is solid, and the stories are interesting and relatable. I love the way Jacky uses shadows to build sexual tension in her sex scenes, oftentimes hiding the direct penetration in favor of shots that focus on the full bodies or faces of the performers. This style works really well to establish an emotional connection between the sex, the onscreen characters and the viewer, and I think that's what makes Bellessa Films such a favorite among the female audience.