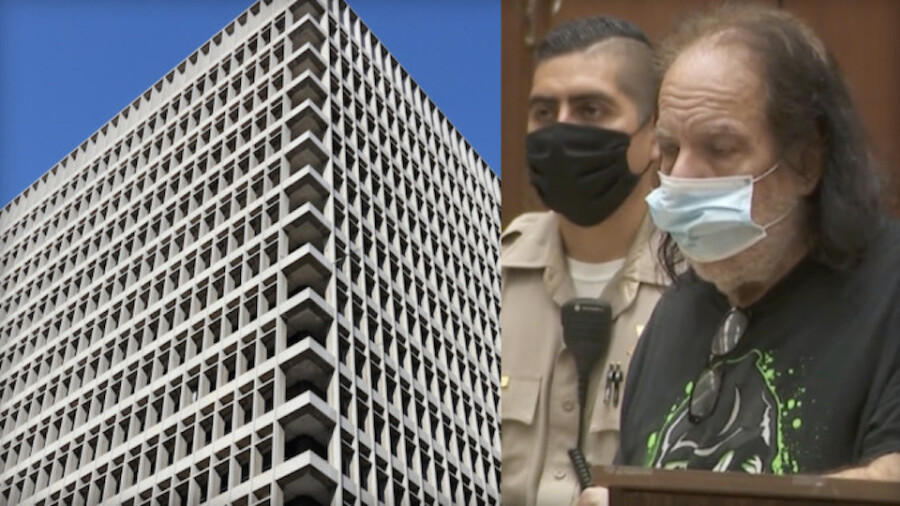 LOS ANGELES — The Los Angeles County District Attorney's Office filed yesterday seven additional sexual assault counts against Ron Jeremy during a hearing yesterday in the ongoing criminal case against the adult performer.
The new charges involve six additional victims and span from 1996 to 2020, according to the DA's office.
The case against Jeremy was amended during yesterday's hearing to add three counts of forcible rape, two counts of forcible oral copulation and one count each of sexual battery by restraint and assault with intent to commit forcible digital penetration.
The new charges bring the total alleged by the office of District Attorney Jackie Lacey against Jeremy to 11 counts of forcible rape, eight counts of sexual battery by restraint, six counts of forcible oral copulation, five counts of forcible penetration by a foreign object and one count each of sodomy, assault with intent to commit rape, assault with intent to commit forcible digital penetration, penetration by a foreign object on an unconscious or sleeping victim and lewd conduct with a 15-year old girl, involving 23 victims.
Jeremy pleaded not guilty to yesterday's charges.
Jeremy was arrested on June 23 and remains in jail awaiting trial.
During his bail hearing, on June 26, the prosecutor — Deputy District Attorney Paul Thompson of the Sex Crimes Division — justified the unusually high $6.6 million bail his office requested by referring to the sheer number of allegations of what he termed "sexual violence" that have been made about Jeremy, some of them going back 30 years.
Although the DA's office initially only found enough evidence to warrant charges over four incidents over a period of five years, during Jeremy's arraignment Thompson cited 38 allegations to justify his claim that Jeremy's freedom represents "a risk" and "a danger to society."
Then during a late august hearing Deputy DA Thompson added 20 more changes to the original 8.
The New Charges
According to a statement by the District Attorney's Office, these are the new charges against Jeremy:
In October 1996, a 19-year-old woman was allegedly raped by the defendant during a photo shoot in the San Fernando Valley.

In October 2000, a 26-year-old woman was allegedly raped by [Jeremy] at a party in a nightclub.

Sometime between 2002 and 2003, [Jeremy] also is accused of sexually assaulting a young woman at a strip club in City of Industry.

A 17-year-old girl was allegedly raped by the defendant at a home in Woodland Hills in 2008.

Two years later, a woman went to the defendant's home where she was allegedly sexually assaulted.

In January 2013, [Jeremy] is accused of sexually assaulting a 38-year-old woman at a West Hollywood bar the defendant frequented.
According to the DA's Office statement, 14 other cases "were declined today because they were outside the statute of limitations."
If convicted, Jeremy now faces a possible maximum sentence of more than 330 years to life in state prison.
Jeremy is now due back in court on December 14 for a preliminary hearing.
The Investigating Authorities
The DA's Office statement now names another prosecutor besides Thompson, Deputy DA Marlene Martinez, and adds the LAPD to the list of investigating authorities besides the Los Angeles County Sheriff's Department and the DA's own bureau of investigation.
As XBIZ reported, Jeremy is only the third man to be charged after being subject of a probe by the Entertainment Industry Sex Crimes Task Force. That task force was formed by Los Angeles District Attorney Jackie Lacey in 2017 to investigate sexual misconduct allegations in the entertainment industry, after receiving criticism concerning her office's handling of the Harvey Weinstein allegations.
Although at some point news sources referred to at least 40 investigations being handled by the task force, from 2017 until late June, Lacey's task force had only pursued charges against one defendant — Harvey Weinstein.
The Weinstein charges were announced by Lacey on January 6, 2020, in a press conference that coincided with renewed public appearances for her current re-election campaign.
Earlier this month, Lacey's office announced six extra charges against Weinstein.
In June, a second case connected to a Task Force investigation, that of mainstream producer and agent David Guillod, was filed by the Santa Barbara District Attorney. Guillod was released on bail and was arrested again yesterday by the LAPD on a new accusation concerning an incident last week.
Main Image: The Clara Shortridge Foltz Criminal Justice Center and Ron Jeremy during his first arraignment hearing in June (XBIZ/Photo Pool).