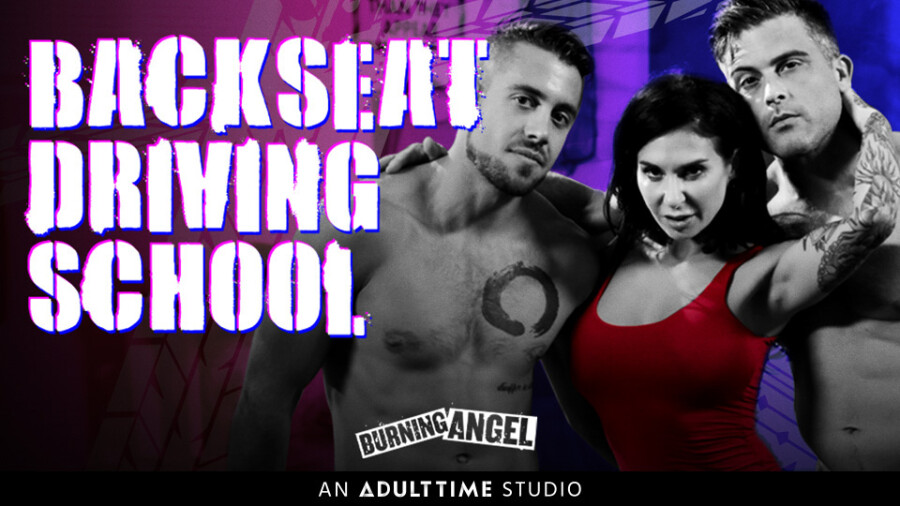 MONTREAL — Adult Time presents a brand-new Burning Angel series, "BackSeat Driving School," out now.
Directed by Burning Angel boss Joanna Angel, the four-part vignette series centers on the comedy hijinks of a day in the life of driving instructors and their eager-to-learn students in traffic school.
"This movie was my first foray back at directing after the shutdown — and a school theme felt incredibly appropriate, as it very much felt like our first day back at school," said Angel. "The cast of this movie couldn't have been more perfect, and, without sounding too fangirlish, it was an absolute honor to have Lance Hart in the film."
Three episodes are available to watch now, starring Rocky Emerson, Aiden Ashley and Charlotte Sartre.
Episode 4, a bisexual three-way with Joanna Angel, Lance Hart and Dante Colle, is set for a November 12 release.
Versatility and Bi-Sex
Hart said that he has "gotten a little picky about the performing work I do for other studios. However, when Joanna asked me to be in a bi scene for a Burning Angel movie, I got legitimately excited."
"The script was hilarious, and the parts written for both myself and my wife Charlotte Sartre were just perfect, and on-brand for both of us," Hart added. "Also, I got to do something that's been on my porn bucket list: to spend a day on set with Mike Quasar."
"it was everything I hoped it would be," said Hart.
"Dante Cole completely blew me away in both of his performances in this movie," said Angel, doing both a bi-scene with myself and Lance, and in his 'straight' (whatever that even means anymore) scene with Aiden Ashley."
"His versatility is, quite frankly the sexiest thing I've seen in a really long time," Angel added.
The director thinks that BurningAngel fans will love this release.
"It's hilarious, it's horny, it's got anal, squirting, bi-sex — and lots of jokes in between!" she said. "And, most importantly, thanks to this movie, I kind of know how to do a synchronized TikTok dance, which I think is a very important skill that I was lacking."
To watch "BackSeat Driving School," visit AdultTime.com and BurningAngel.com.