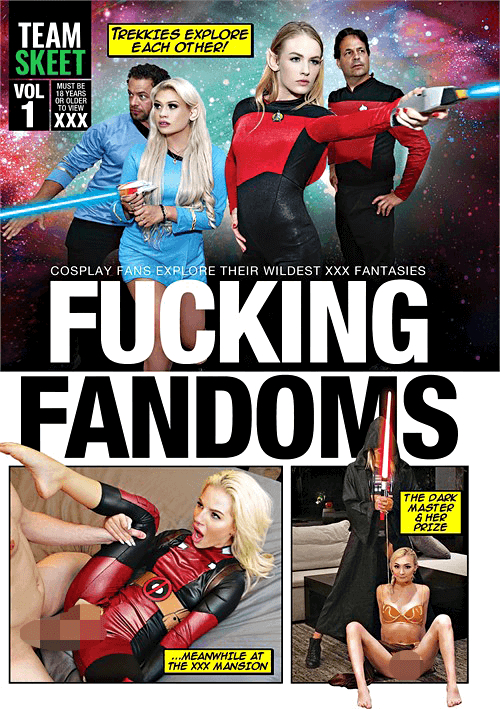 A combination of the words "costume" and "play," cosplay is a form of performance art whereby participants/"fans" wear costumes representing characters in such fantasy- and/or science-fiction-flavored media as comic books, anime, cartoons, TV series and video games. That stated, this Team Skeet gonzo has porn stars practicing cosplay (making it a good choice for Halloween, while also including an homage to the Stephen King horror movie "IT"), before the lads bang the lassies' holes out; high points going to the very cute, highly humpable Chloe Temple and Bella Rose.
Playing pointy-eared aliens/Vulcans from the TV series "Star Trek," Riley Kay (the blonde) and Violet Storm (sporting the long brown hair) get boffed by Enterprise-dressed dudes Brad Newman and Eric John, with the boys switching partners, making it a mini orgy; Kay and her big butt cheeks looking amazing in the doggie position as she eats Storm-snatch, while Storm sucks on big Brad's boner; though seeing Kay's own big lips sucking dick is a sight for sore eyes, as well as viewing her smallish-but-scrumptious tits undulating during a spirited round of missionary.
"Star Wars" geeks Johnny Castle and Quinton James partake in a 'rousing boy-girl-boy-girl sequence featuring the luscious Chanel Grey and, one of my faves here, the wildly tasty Chloe Temple (who has the shorter hair), with both ladies (not switching male partners) looking awesome in all of their positions, though doggie is way arousing with their fair-skinned booties; while cowgirl, with big moaner Temple, shows what a delightful spinner she is, with chipper Chloe just adoring it when she gets a face full o' nutsack nectar.
Another personal fave in the "Fucking Fandoms" cast is juicy blonde cutie Bella Rose, in a full-out black and red leather sci-fi outfit, quickly showing what an amazing deepthroater she is via her inhaling of Alex Davis' dick; Bella's same costume having a convenient space for her pussy to get ploughed; love, by the way, her groans of pleasure/pain during missionary; then we're treated to doggie, at which point Bella dispenses with the costume, which is another movie high point, what with Rose's tight yet luscious bod; though I similarly enjoyed seeing her energetically bounce on boy-beef during cowgirl and reverse-cowgirl; Rose almost losing it during a repeat of missionary, after which she nearly drowns in our dude's dick-dumpings.
And lastly, in a homage to the Stephen King movie "IT," delicious Anna Mae (love the pigtails) has a nightmare about that creepy, murderous, iconic clown in the film (a lookalike of Pennywise the Dancing Clown), after which she nervously wakes up and, to calm herself down, sluttily services J-Mac; best sections including Anna's loud blowjob/deep face-fucking; Mae getting her killer butt slapped during cowgirl; showing off that same beautiful butt's meaty qualities during doggie; getting her puffy pussy potently penetrated during missionary, wherein her head is upon the ground and Mac is jackhammering her like a maniac himself; with a nice little horror twist to round off all o' that steamy, sweaty probing.
Though shot in a fairly rough-and-ready fashion, "Fucking Fandoms" is still a good little title for couples seeking a fun Halloween romp, including some horny but not-too-over-the-top sexcapades; with both Chloe Temple and Bella Rose fully making this smut X-cursion erotically provocative.