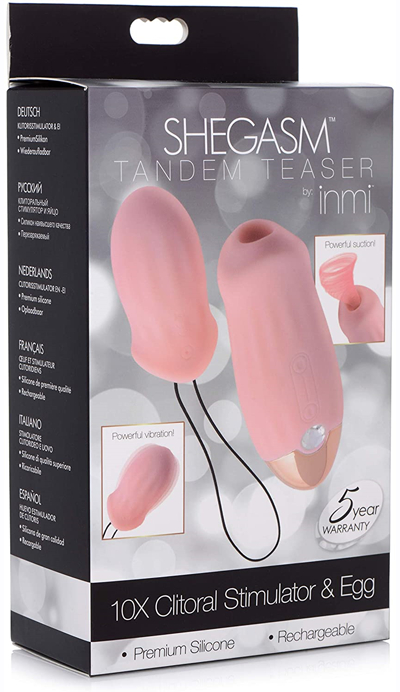 Everyone needs to go get one of these for their playtime. This little duo of toys is freaking fantastic. First, when I opened the box, it reminded me of circus peanuts candy which I love, so already I was into this toy. Use together or each one at a time — either way, you'll have the time of your life. It's amazing for solo play, or invite over a friend to partake in the fun.
The small clitoral egg packs quite the punch with a rumble that you will love. Its counterpart has strong suction to take you over the edge. You can also control the egg with the suction toy. The gem button sends both toys into turbo and their crazy power will pretty much take you to orgasm. It is made of super-soft silicone and isrechargeable with a dual jack pin. It offers multiple variations of vibration and suction. You will never want to put this down.
This item is a wonderful addition to a retail store's suction section. The five-year warranty is a great way to help sell this item. Knowing a company stands behinds its items like that is helpful for the customer to know. If you can show a tester in stores, I would recommend it. This it can hang or sits nicely on a shelf for display.
For more information, contact XR Brands: