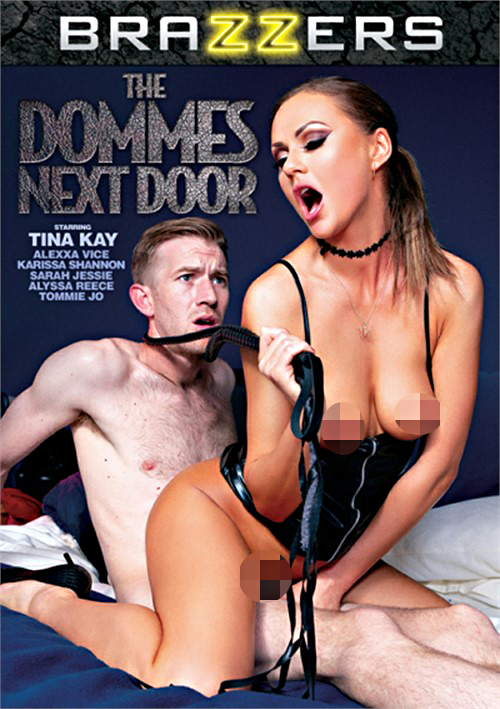 A slew of delicious dominant dames (and a few submissive babes, as well) show what delightfully raging sluts they are in this Brazzers anthology of (not four but) five sucking/fucking scenes, as well as an extra sixth episode, giving you loads o' bang for yer buck.
And each scene most definitely has a dirty, delectable "domme" worth recommending. First up, the always-welcome Tina Kay plays a particularly tasty boss-lady who gets the very lucky Danny D. to do her bawdy bidding, with Kay especially looking good in the cowgirl and reverse-cowgirl positions (the former showing off her fine ass, the latter her choice tits/alluring face), while you absolutely don't wanna miss the copious deposit o' cum with which Danny deluges Teen's striking mug, repeated (for your wanking pleasure) in slow motion.
In scene two, tattooed/redheaded Alexxa Vice is a big-breasted/big-assed domme whom Danny also gets to have fun with; Alexxa looking joyously humpable in the missionary and spoon positions what with her marvelously meaty thighs. And, yes, she gets the Danny-deluge treatment, as well — also repeated in slo-mo.
Next up is one of my favorite scenes, featuring blonde Karissa Shannon, who's got an amazing pair of juicy butt cheeks — and a pair of hefty hooters to match — here playing a sex slave (love the crisscross tape on her nipples) getting dominated and intensely dick-dunked by Charles Dera (sporting his characteristic Harry Reams/70's-porn-star moustache). Not only does Karissa have a luscious body, but her unique-looking face has a sort of 1950s cheesecake quality to it that's oh so arousing, especially when she's deepthroating Dera-dick and looking right into the camera.
"Your dick is so fucking nice," she breathlessly states. "I love it in the back of my throat," just before she starts gaggin' on said boner, while also bringing up tons of spit. Doggie and cowgirl let you enjoy those hypnotically springy Kari butt cheeks, while missionary and reverse-cowgirl show off her bodacious ta-tas and tasty tummy. Kari's also a sincere moaner, making her scene all the hornier.
Sarah Jessie also possesses a fantastic fanny (augmented by her kinky, bottomless leather chaps and lots of oil), who loves it up the backside, with each and every position totally cookin' as her anus is rod-ravaged by Markus ("Look at deese! Look at deese!") Dupree; though doggie-, spoon- and cowgirl-anal will really get your rocks off since they showcase that greased-up, succulent, sexy-Sarah derriere, with trampish Jessie swallowing all of Dupree's dick droppings with absolute relish.
Wiry but still marvelously curvy Alyssa Reece is quite the scrumptious slut, here playing a dominatrix who takes control of the returning (and, once again, X-tremely fortuitous) Danny D. in the men's room of an empty sex club, with Ally — looking terrific in a red-latex outfit and black fishnet stockings — doing her damndest to get Danny's thick baseball bat all the way down her throat; while every position is a joy to behold with this multiple-orgasmic-ever-moaning babe, from doggie (a fave), to spoon (she likes getting choked), to missionary (such choice thighs)… And, you guessed it, Danny majorly cum-cocoons her face.
Our bonus scene has a sex-deprived soldier being forced to service, in his desolate barracks, one dream of a drill sergeant, played by platinum-blonde/huge-hootered/crazily curved/way bossy Amazon Tommi Jo, who looks excellent with a pulsating hard-on in her mouth, though a lush figure like hers was built for doggie slammin', which Soldier Blue-Balls practices (a few times!) on Tommi Jo, eventually plastering her face with pud paste.
Yep, there's not a bad scene in this six-pack of dick-hungry doms (special nods of the little head going to Sarah Jessie and Alyssa Reece) and salacious submissives (thumbs/dicks up to juicy-as-hell, semenly insatiable Karissa Shannon). Get it!