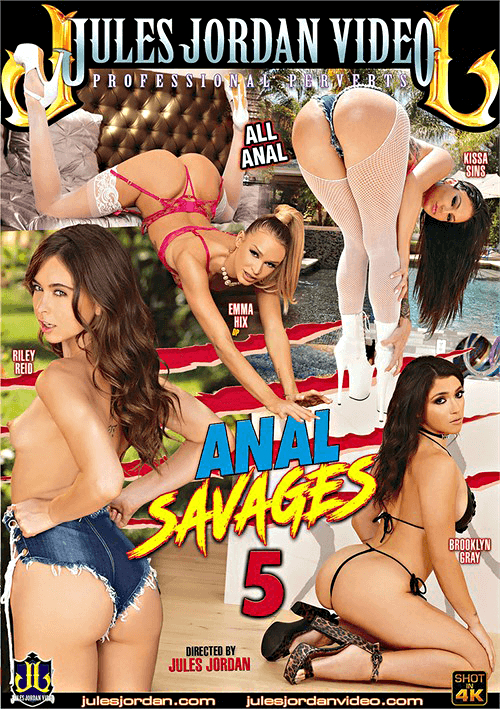 With a title like "Anal Savages," this gonzo better include ass-fucking. Boy, does it! It features raunchy, rectal-ram-happy babes ranging in age from 21 to 33, with a marvy DP (care of the always impressive Emma Hix) thrown in good perverted measure/pleasure. Get ready. This movie could easily burn your cock to a crisp. Yes, it's that volcanic.
First up, the good-spirited, sexually crazed Kissa Sins is paired up with veteran vine-wagger Steve Holmes in one blistering ass-busting opening, literally (the one on Kissa) and figuratively. It seems like Kissa just gets more and more fuckable all the time. Check out how she deepthroats Holmes-hose. Damn! She also rims Stevie's arse like she's been starved for several days. Brave girl. And Kissa's most memorable positions to me are cowgirl-anal (Iots of butt-cheek-undulating action) and reverse-cowgirl-anal (those meaty thighs are right in our face, as well as some truly brilliant gapes); Kissa ever so greedily slurping that sperm down her gullet, after making bubbles with it.
Riley Reid, 29, gets down and dirty with Chris Strokes; Ms. Reid first giving one rockin' deepthroat; with my fave Reid positions being mind-blowing/dick-exploding spoon-anal (what a magically puffy pussy on her!) and doggie-anal, which really lets you dig that priceless pear-shaped Reid rear, complete with some sweet gapes. And wait until you see how Chris destroys Riley's pretty face with his pud paste! Mama!
The always appreciated Emma Hix, 22, gets majorly double penetrated by director Jules Jordan and the returning (and returning!) Steve Holmes; highlights here including a totally whorish double deepthroating of both lucky lads (Em, in fact, begs to get her face fucked!); simple doggie-vadge with that awesome Emma ass sticking out for the world to see (man, what a great tukus!); amazing reverse-cowgirl DP, with some kinky choking ("Give me every fucking inch of those cocks," Hix groans); a stupendous doggie DP with that, once again, ridiculously perfect butt (talk about incredible ass cleavage on that treasure!); loads of doggie-anal, as spinner Em coming multiple times, with Jules telling her at one point during Stevie's doggie-Em-ass-fucking, "Now suck his dick right outta your ass," to which whorish Hix replies, "Oh, like a dirty fucking slut," after which she immediately complies. Love her! It all gets totally chaotic (in a fantastic way!), with the dicks plundering her mouth, twat, butthole … Emma eventually experiencing some kind of nirvana when she takes both major loads o' liquid lovin' onto her face. "That cum tastes so fucking good," she pants. "Just covered in cum like a nasty fucking slut." Em's top of the line — the A-line!
And we end on a nuclear note, with gorgeous, tight-bodied, juicy-assed brunette Brooklyn Gray getting hellishly hammered in face and fuckholes by Markus Dupree, with not a bad position in the scene; but my faves include standing doggie-vadge (great tits on this chick); phenomenal man-ass-licking a la Gray, who squirts up a storm; slamming missionary-anal (love Brook's gaping anus and intense eye contact); out-of-this-world doggie-anal (in a different way than Emma, Brook also possesses a perfect posterior); and wild cowgirl-anal, as our dynamite slut bounces like mad on Markus-meat. And, yes, Dupree makes her face look like a melting waxwork. "Do I look pretty?" she beams at the camera, her darling face fully cum-cocooned. Brook's the best!
This gonzo, actually, builds more energy and nastiness with each successive scene, going from lush Kissa, to curvy Riley, to gnarly Emma, to out-fucking-standing Brooklyn. The sex is definitely savage and superlatively anal. First-rate-fucking filth!