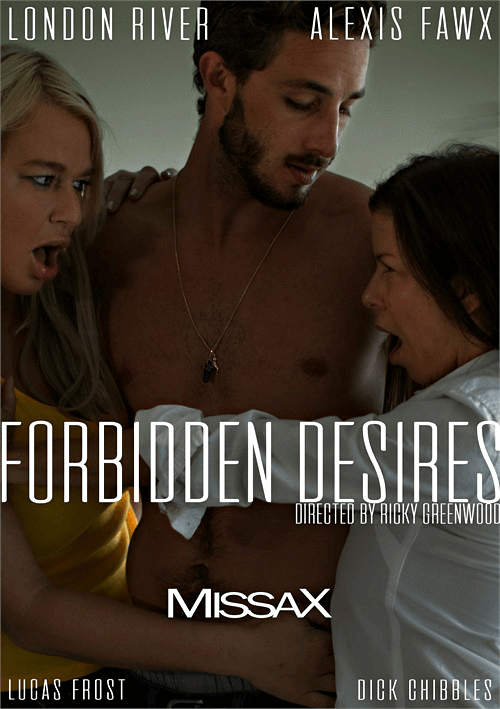 When his sister-in-law India (London River) calls complaining of marital troubles, Dick Chibbles feels obligated to comfort her considering how difficult his brother (Brad Newman) can be. On a whim, he suggests to his wife Alexis (Alexis Fawx) that she and his son Lucas (Lucas Frost) spend the weekend with India to take her mind off things. Alexis begrudgingly agrees, unknowingly setting herself and her stepson up for a weekend of taboo temptations and dark revelations that will change all their relationships forever.
Co-written by Ricky Greenwood and studio founder MissaX, this film explores the fauxcest genre of step porn through a complicated narrative that does it's best to give weight to the sexual action. The burden of bringing life to this story falls mainly on the shoulders of Alexis Fawx and London River, while Lucas Frost is tasked with playing the corrupted innocent role that is so often the crux of these tales. One of the strengths of this movie is its willingness to cut sex scenes short to enhance the narrative. There are three sexual moments that could have very easily been full scenes, but cutting them short actually gives significant weight to the characters, allowing the audience to connect with the sex on a more intimate level. I thought these were all strong choices by director Ricky Greenwood.
The movie opens in the middle of Alexis getting plowed by her husband Dick Chibbles, but she couldn't be less interested. Her body language and facial expressions make it clear that she can't wait for the moment to end, and this creates immediate empathy for her character with the audience. Upon their arrival at India's home, she and Alexis share a few pointed exchanges (including a strong disagreement about the awkward sleeping arrangements), which creates tension between the two women and forces Lucas into the role of peacekeeper. One night, Lucas stumbles upon India sprawled naked in her bed masturbating furiously. Overcome with arousal, he beats his meat to cream in his shorts. Although it's short and ends abruptly, this solo scene worked to give the story an injection of sexual drama. London River also looks really fantastic here and the camera catches all her glory perfectly. The dramatic tension between Lucas and India is revisited when he stumbles upon her and Brad fucking, and once again decides to watch while jacking himself off. However, he's unaware that India spies him watching.
A heartfelt conversation between Alexis and Lucas about finding the right woman leads him to take his shot with Alexis, and she doesn't refuse him. Their sex is passionate, but there's an aggressive undertone to the encounter as both of them seem to be finally releasing a desire they've been holding back for a long time.
After revealing his feelings of guilt to Alexis, causing major tension between mother and stepson, Lucas seeks comfort in India's arms. Admitting she's been unhappy with Lucas's uncle for years, India doesn't hesitate to let Lucas into her bed. This scene is much different than the scene with Fawx; the tone is more carnal and animalistic. These two are fucking purely for the physical pleasure of the act. Lucas is more aggressive and much less concerned with India's pleasure than he was Alexis' (take note of how hard and how long he fucks London's mouth). For her part, London couldn't be happier having Lucas use her holes. The lighting here is good as well. Shadows incorporated into sex can really enhance the action and Greenwood does a good job with the shadows here. The creampie finish is sloppy and nicely visible, and adds to the taboo nature of the encounter. I do wish the movie didn't quite end so abruptly, but aside from that the climax is satisfying.
The sex here is quite good and the story is solid, even with the burden of carrying such a wealth of intertwining, individual narratives. London River does a good job of exuding sex at every turn, and her performance creates a sense of anticipation for the audience because we can't wait to finally see her fuck fully. Lucas Frost also does a really good job giving the taboo nature of the story life. Without his believable innocence, the impact would have been significantly lessened.