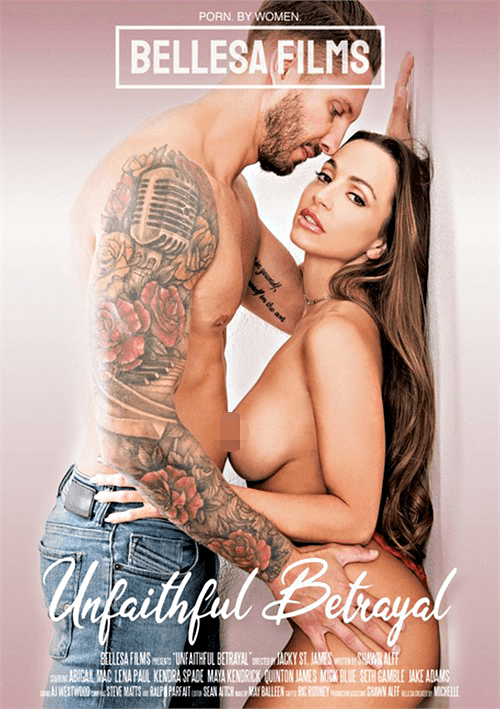 Three-time XBIZ "Best Screenplay" winner Jacky St. James directs four erotic stories, written by herself and longtime collaborator Shawn Alff, focusing on couples giving into morally compromising temptations.
"The Curse" (Lena Paul and Seth Gamble):
Lena, Seth and Mike are roommates who are all dealing with frustrations in the bedroom. Seth has recently broken up with his girlfriend Heather because the sex "just wasn't there", while Lena is frustrated with her boyfriend Mike who hasn't made her cum in months. As Seth and Lena discuss their separate issues, Lena jokes that she's cursed because this problem isn't exclusive to Mike. A bit taken aback and embarrassed to be having such an intimate discussion with Lena while Mike is at work, Seth assures her that things will get better because he's given Mike some tips to last a bit longer in bed. Intrigued, Lena challenges Seth to take a shot a breaking the curse, which he accepts despite his reservations about the messy implications.
Lena's cock-sucking technique is very impressive. She keeps her throat nice and wet and works her hand perfectly along Seth's shaft. There's some very sexy tit fucking and Lena looks downright heavenly riding Seth on the luxurious bed. She really sells the orgasm not only through the vulnerability in her moans, but also through the way she collapses into Seth's arms and trembles in his embrace as the waves of unexpected pleasure wash over her. I love the sensuality of this scene. Seth expresses his pleasure vocally, and Lena responds with soft, intimate, admissions of her own ecstasy. Also, the final position deserves recognition because it's an extremely erotic visual that really shows a deep level of connection between the couple. Note the way Lena and Seth don't open for the camera during this shot. Instead, Lena's leg is wrapped around Seth's hip in a full body embrace.
"Crossing a Line" (Abigail Mac and Quinton James):
This scene sets the sexual tension right from the start using sound, dialogue and visuals in expert fashion. Abigail steers the mood of the scene as it is her breathy voice, vulnerable admissions and surprising resolve that drives the plot. Abigail and Quinton stumble up to the door of her apartment, appearing as sexy silhouettes against the glass door. She whispers feeble protests to Quinton's advances, telling him he shouldn't be here and they shouldn't be doing this, while half-heartedly begging him to go home to his wife. All the while, she returns his kisses hungrily while groping his body.
Her offhanded revelation that this forbidden affair has been going on since the house-warming and again at his birthday party establishes a potentially long timeline and enhances the scandalous tone. Then she utters the most impactful line in the story: "I'm not going to force you to cheat. You're going to have to tell me what you want." With that simple, yet powerful line, Abigail takes complete control of the entire tryst. The way the performers are shrouded in shadows throughout the encounter is perfect, and Abigail's wet pussy clenching Quinton's rigid shaft provides a very sexy soundtrack to the sex.
"Just a Kiss" (Maya Kendrick and Jake Adams):
Maya is heavily conflicted in this story. She's in love with Michael (we're not sure if he's her husband, boyfriend or something else), but the sexy phone calls and texts she's been sharing with Jake are pulling her inexorably down a dark path of infidelity. Against her better judgement, she asks Jake to meet her at a discreet hotel, unsure of what she's going to do when she arrives. Jake is fully committed to the affair, but his concern for Maya's emotional sanity keeps him from pushing the issue beyond what she's willing to risk.
In the end, the two lovers decide to share a single kiss and see where fate takes them. Naturally, it takes them right over the edge. The sex here isn't as aggressive as one might expect, which is actually the beauty of the scene. They savor each other, resisting the urge to rush through the moments, instead taking their time to revel in their ecstasy. Jake's hips undulate smoothly as he pushes himself deep inside Maya, and she trembles with pleasure under his relentless, yet soft thrusting. The way he goes back down to taste her after dropping his load on her perfectly pruned bush provides an extra spicy end to the encounter.
"Getting Even" (Kendra Spade and Mick Blue):
A judgmental Kendra retreats to the upstairs bedroom to escape her sister's party and the assholes her brother-in-law Mick invited. Gazing down at the courtyard in disgust, she seems completely unsurprised when Mick enters the room behind her. As the two watch Kendra's sister flirt shamelessly with a particular guest, Kendra decides to "innocently" mimic her sister's actions with her husband. After some heavy innuendo, Mick gives in to Kendra's advances and the revenge fuck is on.
There are two taboos at work here: the first being the idea of a sister fucking her brother-in-law, and the second being the excitement of potentially getting caught. Again, the use of shadows is great, as both Kendra and Mick's bodies are well-illuminated, but the actual penetration is often hidden in darkness. That's another small touch from Jacky St. James that serves as an example of porn shot from the female gaze. With less focus on seeing the dick penetrate the pussy and more focus on experiencing the story, James is able to heighten the excitement of the sex. Very well done.
Once again Bellesa Films shows themselves to be a go-to studio for porn that uses a combination of dialogue and visual storytelling to engage its audience. Jacky St. James understands exactly what her audience is looking for and she gets wonderful performances from her entire cast, particularly Abigail Mac and Seth Gamble.