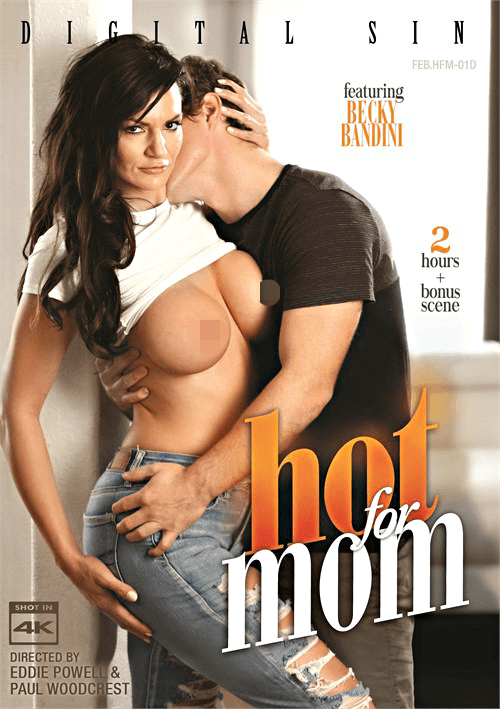 The appeal of an older woman fucking a younger stud is a focal point of this collection of short stories from directors Paul Woodcrest and Eddie Powell, with an emphasis on faux-cest thrown in for an extra measure of taboo.
Sovereign Syre and Michael Vegas:
Devious Syre calls her step-son Vegas and asks him to stop by the house to pick up a package set to be delivered since she and his father won't be home. When Vegas arrives, he finds no package, and his scantily clad step-mother masturbating in the bedroom. Vegas chastises his step-mother, reminding her that they'd agreed to stop their scandalous rendezvous, but she sees right through his half-hearted resistance. Admitting defeat, Vegas sets forth to plowing the hell out of Syre. There's some really good stuff here, starting with the absolute spearing of Syre's throat as Vegas mounts her face. I mean talk about raunchy! We get some wonderful close-ups of Syre's ass as well which is always nice. I love the aggressiveness of Vegas because it's subtle. He doesn't try to knock Sovereign's bottom out, but there's still a fierceness about the way he fucks her that comes through the screen.
Cory Chase and Jake Adams:
After a long day at work, Jake comes home to find his step-mom Cory fresh off a busy day of her own. When she tells him his dad will be working late, Jake wastes no time taking Cory to the bedroom. The overhead shot of Jake eating Cory's pussy on the bed is awesome. It really puts her fit body on display for the audience. I love the way Cory just gets off in this scenes well. At the start, she almost feels like she's just using Jake for his cock, remaining uninterested in his pleasure. I thought this was a good dynamic to play with. Also, there's something about the way Cory looked in doggie that just worked. Those long legs running up to that supple ass was quite the vision.
Dee Williams and Codey Steele:
This story opens with Codey doing a voiceover to set the stage for the audience. He describes his step-mom as a woman in the midst of a mid-life crisis who suddenly wants to become an actress at 40. When she asks him to take some high quality headshots for her, he reluctantly agrees because despite his misgivings, he has taken some photography classes and probably has the skill to deliver what she's looking for. Much to his surprise, what Dee is looking for has very little to do with photographs. Hold on to your hats here ladies and gentlemen, because Codey gives Dee the fucking business from start to finish. Watch Dee's face throughout; her body is racked with pleasure and Codey rarely gives her a chance to catch her breath. It's kind of like watching a sexual exorcism with Codey fucking every ounce of pleasure out of Dee's body relentlessly. Seriously, hang on until the doggie style near the end and you'll see what I'm talking about. It's impossible sexy and I don't know how Dee could even move afterwards.
Becky Bandini and Robby Echo:
Like the previous encounter, Robby sets the scene for the audience with some voice over narration. He is completely enamored with his step-mother Kylie and her contemporary attitude. She knows all the best clubs, all the coolest dances and even has an IG that's pretty legit. One day Robby concocts a scheme to finally seduce Kylie. He pretends to ask her to show him how to dance as he plans to go clubbing that night, and the next thing he knows, she's got her shirt off and his cock down her throat. Holy cow does Becky Bandini have a great body and goddamn is she an absolute master in cowgirl! The way her hips move is mesmerizing. The finish is particularly nice as Robby titty-fucks his cum all over Becky's throat. That's a finish you don't see often, despite it being a quite popular fantasy. It was nice to see Powell and Woodcrest give those fans something to go home happy with.
MILF fantasy and step-porn are the meal of the day here and this film knows exactly who its audience is. The cast is great (Becky Bandini is a real bombshell and Dee Williams just about steals the show) and there are some pretty visually pleasing settings to compliment the sex. There's nothing groundbreaking here, but when you know exactly what kink you're serving, there's no need to deviate from the proven formula.