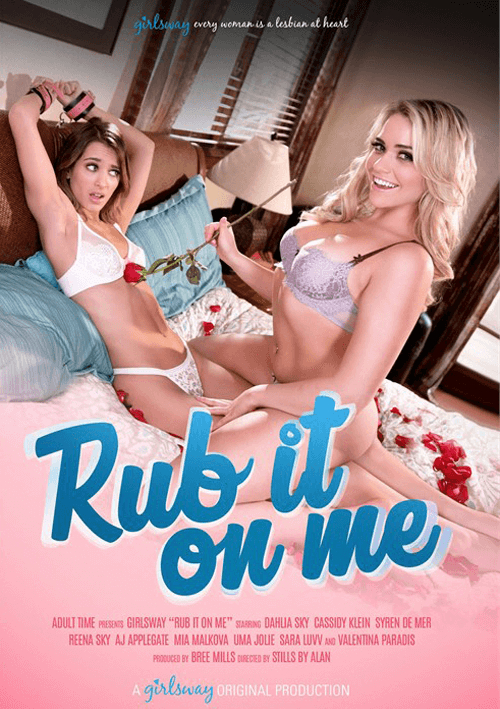 A collection of scenes from Girlsway showcases a few of their most highly-rated lesbian scenes.
"Vegas Sins" (Reena Sky and Dahlia Sky):
This scene is the climax of the 2017 movie "Vegas Sins." It opens with a confused and concerned Reena Sky finding her girlfriend Dahlia distraught and disheveled in a fancy hotel. After confessing to her forced infidelity, Dahlia is humiliated and desperate to earn Reena's forgiveness. Reena, angry and disbelieving of Dahlia's story, demands she show her exactly what happened, leading to an aggressive sex session rife with drama. This is a good feature that fans should take the time to watch in its entirety, and this scene should serve as a nice motivator for them to do so.
It's a wonderful setting, as the huge windows look out over a glittering city nightscape, and the periodic reflections of the ladies in the window add a nice aesthetic to the scene. Stills by Alan also deserves credit for not having any of his crew or equipment visible in the glass reflection. There's a masochist tone to this scene as Reena is almost punishing Dahlia through sex for her transgressions, and Dahlia feels like she's begging for forgiveness with every lick, grasp and moan. You can really feel this energy when Reena is smashing her cunt into Dahlia's face, almost fucking her mouth with her pussy. Reena is really gorgeous and boasts a pretty incredible rack, and I've always liked Dahlia as well.
"Dream Pairings: Chapter One" (Uma Jolie, Mia Malkova and AJ Applegate):
The Girlsway Girl of the Month initiative began back in 2015 as a way to highlight popular performers on the website with an entire month featuring their content. The "Dream Pairings" series is a showcase for those girls to have their personal fantasies brought to life by the studio. Each short story is conceived, written and cast by a Girl of the Month.
This particular story is from 2016 and comes from the mind of Uma Jolie. She plays the freshly-turned 18-year-old stepsister of AJ Applegate and neighbor of the scrumptious Mia Malkova, who has secretly been lusting after her for years. Now that she's finally 18, Mia can put her plan to seduce her into action, ecstatic about the idea of taking young Uma's virginity. Mia tricks Uma into a situation where she's able to cuff her naked to her bed. When Uma wakes up, she realizes the severity of her predicament and tries to flatter Mia into letting her go. Unfortunately, instead of convincing Mia to release her, it only makes Mia believe Uma's been lusting after her as well, leading to a torrid sexual tryst. When the shenanigans conclude, the delusional Mia cuffs Uma to the bed again, intending to keep her as her sexual plaything forever. Fortunately, AJ comes home and discovers her step-sister's plight. She frees her, knocks Mia out, and locks her in the bathroom. Then AJ confesses that like Mia, she too has been lusting after Uma for some time, causing Uma to admit that she's actually held the same feelings for AJ. And just like that, Uma is in for another sexual treat!
Mia Malkova and AJ Applegate have two of the best asses in porn, and to have them both in this scene is fantastic. The 69 between Uma and Mia is just wonderful, with Mia's ass plastered front and center for the audience to revel in. I love the romantic feeling created by the rose petals all over the bed and they just make Mia's smile even more wholesome as Uma sexes her up. Watching Uma bury he face in AJ's ass (especially the enthusiastic rimming) is wonderful, and then Uma finds herself the bottom of another sexy 69 with AJ's apple booty in a similar position as Mia's before her. I actually like the idea of having AJ and Mia both assume the same position during the sex because it allows the audience to marvel at both their stupendous asses in the same setting. It's like sampling a wine flight!
"One Time at Camp" (Sara Luvv and Valentina Paradis):
This is part two of the 2015 short film "One Time at Camp." Audiences should definitely take the time to watch the entire film because part one adds a good bit of context to part two. Here, we get to see Sara and Valentina as a more comfortable couple, willing to trust each other and experiment. After using sex to convince Sara to give her a job as a camp counselor for the summer, Valentina finds herself in Sara's bed again, this time to satisfy a very specific kink Sara's been hiding. She wants Valentina to fuck her with a strap on. Sara rides that strap like an absolute champion, and Valentina does her best swordsman impersonation by fucking Sara on her back like a virile young stud. For her effort, Sara rewards Valentina by devouring her pussy ravenously.
Once again, a collection of scenes from previous films serves as a fantastic appetizer for audiences looking to get a taste of what a studio has to offer. The most intriguing project featured here is "Vegas Sins," as it is a full-fledged drama with amazing visuals and emotional performances. Anytime Mia Malkova and AJ Applegate are featured in the same movie the results are explosive, and Sara Luvv is stellar. Fans of lesbian porn will want to check this one out for sure, and should find their appetite for more Girlsway content sufficiently whetted in the process.