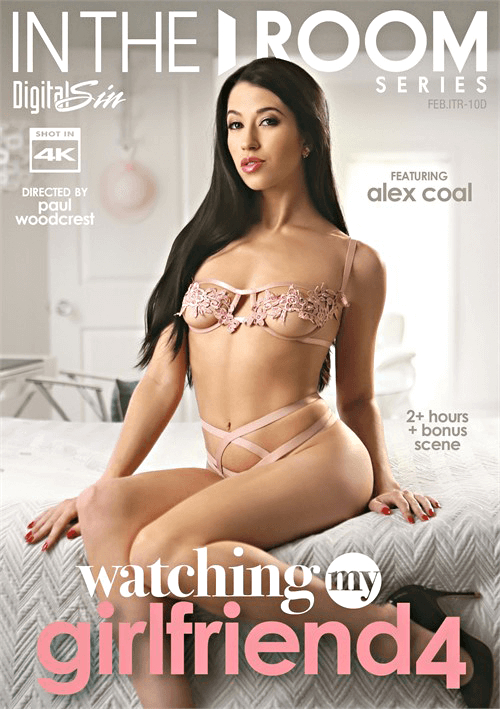 The popular voyeur POV series from New Sensations studio Digital Sin returns for its fourth installment.
The "In the Room" series is unique in that it places the audience inside the fourth wall by breaking it. The premise is the idea that the audience is part of the scene because they are connected to one of the characters onscreen in some way. When the sex starts, the audience is effectively "in the room" because the performers bring them in specifically through narrative elements of the story.
It's a very unique take on the POV genre and works quite well to immerse the viewer in the onscreen action. Director Paul Woodcraft does a nice job assembling an intriguing cast, and the execution of the fantasy is well done.
Alex Coal and Jason Moody:
Alex boldly calls her side piece Moody over for an afternoon grind fest despite the fact that her boyfriend is home. When Moody arrives, he asks if they'll be alone, but Coal responds that her boyfriend will be in the room watching them, but that shouldn't stop them. This is how the fantasy is built. Coal and Moody often look directly at the camera and speak directly to the boyfriend, effectively placing the audience in that role. It's a clever tactic to put a unique spin on an established idea. Coal looks pretty great throughout, with her ample bottom filling a good amount of the screen from time to time. Plus, in the closing moments of the scene, Moody really tears Alex up nicely and she meets his every vigorous thrust with her own rambunctious hip thrusts. Great start.
Alexis Zara and Ramon Nomar:
Alexis starts her scene like a JOI session. She teases the camera with a sexy dance while whispering instructions to the audience about what she wants them to do while she's fucking Ramon. Once Ramon enters the picture, she tells him that "her boyfriend over there is just gonna sit in that chair and jerk his cock" which makes the audience part of the action. The performers even go a step further with Ramon asking whether "he" is going to join them, to which Alexis replies "no, all he can do is just sit there." Alexis has nice tits with pretty incredible nipples, and there's plenty of tit play throughout the scene which is nice. Ramon is his typical vigorous self, and Alexis quivers with ecstasy under his relentless assault on her pussy.
Allie Adison and Logan Pierce:
This scene opens with a cool mirror shot of Allie speaking to us directly. She tells how how excited she is that we brought someone over for her, and how she can't wait to show us how much of a slut she can be for us. Logan is excited, but unsure of how this type of situation should play out, and his nervous glancing at us (through the camera) really builds the fantasy. We feel like we're really in the room with these two, not just watching from outside their reality on our screen. Allie is a petite woman which plays into both the young, and voyeur fantasies. Allie seems barely able to take Logan's cock initially, and every subsequent thrust seems nearly to split her in two.
Edible Aubrey and Oliver Flynn:
This scene starts off with a sexy bang, as Aubrey is already fucking herself with a dildo as Oliver walks in downstairs. Watching Aubrey pound her pussy while standing against the wall in lingerie is a great tone setter, and when she finally speaks to the audience, the sexual tension is sky high. This scene has a unique twist in that it is Oliver who speaks to the audience this time. He tells us Aubrey is get at sucking dick as she slobs him up, and he asks the audience if he can fuck her. Aubrey's got wonderfully long legs that really make the missionary look great, and her cute braces give her a youthful vibe as well.
The concept behind this series is pretty inventive. I've never seen POV scenes shot this way, and the folks at Digital Sin deserve credit for bringing a unique spin to a well-established genre. POV scenes are all about immersion from the audience, and this series probably accomplishes that goal more than any other POV scene I've ever seen. Alexis Zara and Alex Coal are both standouts, but I thought Allie Adison had the most intriguing scene of the bunch due to the setup. POV and JOI fans should absolutely check out this series.