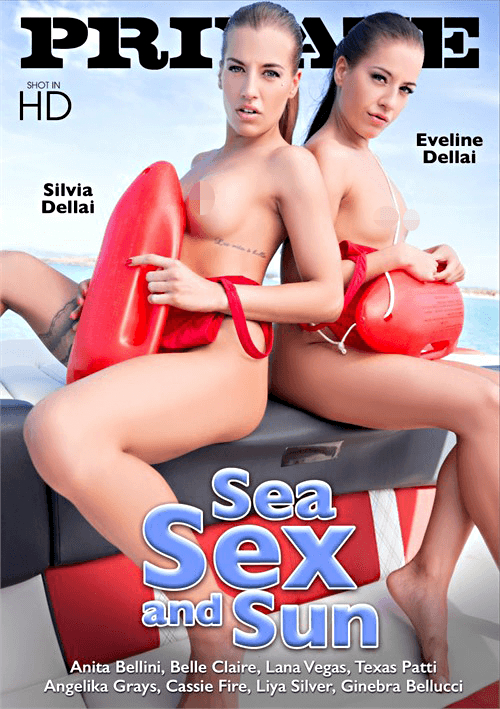 With all scenes set on the picturesque Spanish isle of Formentera (not too far from popular resort Ibiza), "Sea, Sex & Sun" is filled with beautiful backdrops and equally beautiful women, as well as some downright dirty (a good thing!) gals, with five (not four!) salacious sequences; high points especially go to cute-as-hell Liya Silver; energetic MILF Lana Vegas; and gorgeous, anal-friendly blonde Angelika Grays.
And we begin with a doozie, featuring luscious (including a pair of perfect tits!) brown-haired n' lovely Liya Silver, getting it on with Potro De Bilbao on an honest-to-goodness bed (after some nice footage on the Formentera shoreline); Liya getting titty-fucked and delivering a solid bj, before she loses it while getting her undoubtedly succulent snatch eaten; watch her amazing headlights swirl during spoon and missionary, while they magnificently swing during some heated doggie; incredible Liya giving horny eye contact whenever possible. And even after Potro pops onto her world-class breasts, Liya is still suckin' boner. Love her!
Twins Eveline and Silvia Dellai (the latter lust bunny possesses all of the tats) play lifeguards, saving the very lucky Charlie Dean from drowning, just before they nearly fuck him to death on a small boat (check out that crystal-clear water surrounding 'em!); Ev giving a far-out blowjob, then riding Chucky reverse-cowgirl; with Sil taking it up the ass and especially shining during doggie, during which Deeno feeds Ev some choice ATMs (whew!), after which it's reverse-cowgirl-anal, with both ladies eventually double-sucking Dean-dick before Chucky releases his gametes into their pretty (and pretty identical!) mugs.
I especially liked viewing older/bolder blonde Lana Vegas take on a young stud at a desolate section of some Formentera beach (besides a nearby clear-water creek, no less), Lana giving a deep, mean and meaningful suck-off (dig her hip-looking sunglasses!); her slightly big, truly juicy ass wobbling like mad during cowgirl; doggie has the lucky lad ramming his log over and over into Vegas-vadge (and it's, thankfully, a repeated position!); while Lana seems to sincerely enjoy (lots of moans!) reverse-cowgirl, during which she grinds her hips like a true slut; and you'll totally enjoy her big boobs and attractive face during spoon; the dude jerking off copious amounts o' spermola into Lana's face, as she lustfully laughs, afterwards hungrily sucking that dick till it loses altitude. Good job, Lana baby!
Another highlight has blonde, blue-eyed babe Angelika Grays letting some older dude-surfer pick her up at the beach (the poor baby has apparently hurt her knee), taking her gingerly to his home, feeding her with fruit, then frankfurter in one scalding anal scene. Grays could easily be a mainstream fashion model. Yes, she's that striking. And filthy? Mama. Look out! Angie first loudly sucks the guy's dick, slow and methodically, with plenty of saliva and kisses. And in terms of actual vadge/anal penetration? Wow! Spoon-vadge is outstanding, what with Grays' dynamite derriere (so big, round, firm).
Yet she's no dead fish, either, but passionate as hell; our boy eventually doing her doggie, then moving from honey hole to rear hole; Angie's blue eyes disappearing into her skull from sheer ecstasy as her crack is cracked. Cowgirl-anal lets you really appreciate that rocking rump, with plenty of happy pumping/humping from Angie. And check out the occasional gape during reverse-cowgirl-anal, before Gray jerks/sucks him off to eruption, Angie lappin' up the love liquid like the greedy vixen she is. Damn, girl. Marry me!
Lastly, Eveline Dellai and Anita Bellini get it on with some heavy-hosed hunk by a lighthouse (more great videography) with the three pervs moving inside (somewhere) to have a fast-and-furious threesome; bottom-blessed Bellini looking superb during doggie-vadge as she eats Ev, who shows off her own fine fanny cheeks during cowgirl-vadge. Steamin'!
Yep, from start to finish, this delightful, downright dirty Private in-and-outing is a joy to view; especially thanks to dreamy, decadent damsels Liya, Lana, and Angelika! And, even though there's some anal, this entire title is so tastefully shot, couples might enjoy it, as well.