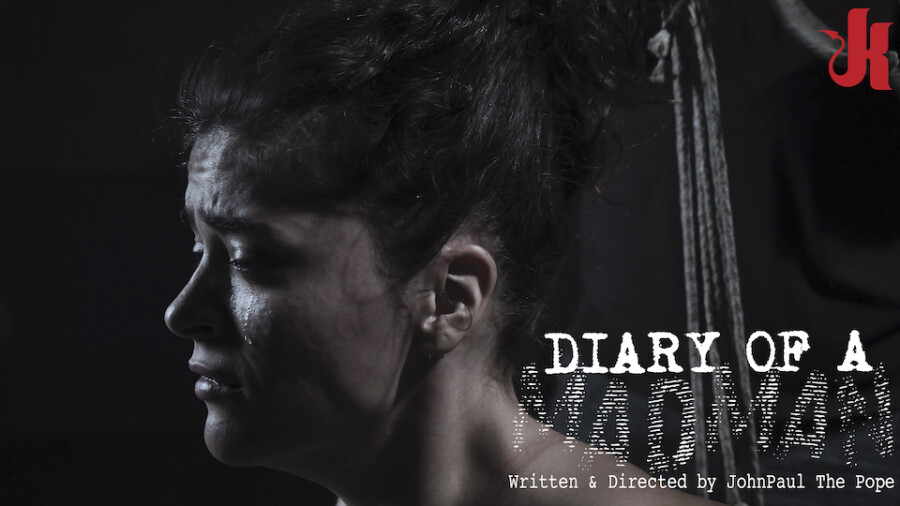 LAS VEGAS — Kink.com debuts today a groundbreaking new narrative series, "Diary of a Madman," created by studio mainstay JohnPaul the Pope, who plays the titular character, and co-starring Victoria Voxxx.
JohnPaul the Pope, aka "JP," spoke exclusively to XBIZ about this boundary-pushing series from a studio that is known for both its extreme on-camera content and its rigorous, pioneering work on consent agreements for challenging taboo scenes.
JP described the plot of the story as "there is a madman on the loose, and he has learned over the years to stay hidden in plain sight. He stalks his prey, abducts them and then torments them until he has grown tired of them."
As opposed to his usual scenes, in the new series "there is no dungeon, in the classic sense, but rather a domestic setting where he carries out his sadistic plan on his unsuspecting victims."
The first victim is played by JP's friend and regular collaborator Victoria Voxxx.
Key to "Diary of a Madman" is the concept of "consensual non-consent," which is JP's term for the careful negotiation between the actions portrayed on camera — which he calls "100% wrong" — and ensuring that the actors are fully comfortable and actively consenting to performing those actions.
Expanding a Taboo Brand
"Diary of a Madman," JP told XBIZ "started out as an idea I had for developing something within Kink's Hogtied brand that was more story-driven."
His idea was to marry his interest in cinematic storytelling — which he had recently indulged in with fan-praised Kink features like "Deception" and "Derelict" — to what he calls "the usual 'here we are at the dungeon, there's JP and the model, and they do this thing three or four times and then rinse and repeat.'"
The Kink team was receptive to his idea from the get-go, but things were put on hold in the spring when the COVID-19 moratorium was imposed. But the summer came and went, and Kink was one of the few company that did not ease back into a more regular flow of production.
"So, I reached out to the CEO with the 'Madman' idea and said 'Hey, Victoria is actually a personal friend of mine, she's someone I've allowed in my house during the quarantine because she's in our little bubble and since I already know her, and I'm friends with her and we test just to hang out, how do you feel about me doing this project now?"
Kink greenlit JP's movie project, with one important modification: they wanted it to be a series.
"I guess 'series' is the kind of thing right now that everyone's trending towards," JP explained. "I told them we could pull off four parts and then turn it into a four-hour movie and, once I submitted a shooting protocol for on-set distancing, safety [and] PPE, we shot it in four days."
An Undetected Predator
Unlike his previous features, "Diary of a Madman" was written by JP to showcase something fans had not had the opportunity to see: his own acting.
"Usually in my movies like 'Derelict' or 'Deception,' I don't say anything — I'm quiet," he explained. "I either play this weird monster with the mask on, or I'm this figment of their imagination. So I don't actually exist. Whereas in 'Diary of a Madman' I actually talk, act and have character development."
The terrifying character JP wrote for himself is very different from the confident Dom he portrays in his standard — and very, very good — "'here we are at the dungeon" Kink.com scenes (and if you haven't seen the recent BDSM workouts he gives Ivy Lebelle and Vanessa Vega, you totally should).
"The title's 'Madman' is based around this guy who's roaming undetected by society," JP explains. "It's similar to the Golden State Killer, kind of the same premise. This is a person who's just doing this repeatedly and no one's caught on that he's doing it."
"And it's twisted," he adds.
For JohnPaul the Pope to call something "twisted," we are talking about something else indeed.
The results even shocked him and his regular videographer, both jaded practitioners and witnesses of the most refined scenarios of consensual punishment.
"Me and my videographer talked about it after 'Diary of a Madman' was over and we reviewed the footage and we both agreed that this is probably the most fucked-up project that I've done so far," JP explained.
So much so, he says, that Kink has been retweeting promotional clips with a trigger warning.
"The trigger warning had to be included becaue it looks and — thanks to Victoria's amazing acting — feels so intense," JP told XBIZ. "If Hollywood made something like this, they may get some flak from some quarters. But because it's not explicitly sexual, they don't have that much they worry about. Whereas this is much more realistic."
"A Cinematic Thing"
The shooting style, which JP describes as "a cinematic thing, not what you'd expect from a regular porn," owes a lot to classics of the true-crime slasher genre like "Henry, Portrait of a Serial Killer" and a number of David Fincher projects, including "SE7EN," "Fight Club" and the TV show "Mindhunter."
"I'm a big cinema nerd myself," JP said, "and I started noticing that when you watch something like 'Fight Club,' you're anxious and you don't know why, and when you start paying attention to it it's because they were changing the colors to grays or greens or blues. It subconsciously clicks in your brain, 'Oh shit, something's about to happen.' The same way they do with music."
In "Diary of a Madman," JP made ample use of this device to create a multilayered story that switches back-and-forth between reality and the Madman's delusion, sometimes with frantic, strobe-level intensity of a demonic flicker. The series goes deep inside the mind of the twisted central character, becoming at times a flipbook from hell.
"The dark grey is like the worst part," JP explained. "Basically all the torture scenes are done in this grayish blue-cold steel look to kind of push you in. We are cutting between realities."
JP describes the Madman as essentially delusional. "In his head, he sees these people — I had diary entries that you'll see during the series where he sits there and talks about what's going on in his head. He may write, 'You know I had coffee with this really hot girl today and she really really likes me and I think we're gonna go places and she just keeps making eyes at me,' but in reality we didn't have coffee at some place, we were at my house and she was already tied up in bondage."
"He's also very delusional in believing that what he's doing is okay," the director continued. "He watches her making dinner and she brings a bowl to the living room but then I come in and she's there in full bondage while I eat a TV dinner."
JP refers to these jump cuts between realities as "breaks."
"He's completely delusional in assuming that what he's doing it's okay and then, without giving too much away, once he finally snaps and realizes the full reality of what he's doing, he's just has had enough of that person."
"We never really distinctly say what he does with the girl, but we insinuate something at the end," JP ominously explained.
'Consensual Non-Consent'
Asked to explain the key concept of "consensual non-consent," JP expanded on the notion as "when people explicitly agree to be involved in a scene — whether it's sexual or the story in general — that is very intense and it plays off of things like, in this case, rape or abduction."
"Because clearly no one wants to be raped, no one wants to be abducted," he added, "so 'consensual non-consent' is the way that we portray non-consensual actions in a consensual ways. We sit down and we have this big discussion. We talk about all the emotions that may go into it or that it may invoke with people that are watching it, knowing they are watching it, and knowing I know when I wrote this I was aware it is probably going to trigger some people, and it was never an intention to make someone unhappy to see this. But I also knew that with the subject matter that it was going to trigger some people because of past experiences that people have had."
"So consensual non-consent is basically being okay with portraying something that is 100% not okay, like the rape and abduction in 'Madman,' but it's being done in a way that the model is okay with it, I'm okay with it and it's just acting.
"Victoria does such a phenomenal job in this that there were a couple of times that I had to stop and say, 'Are you sure you're okay?' and she smiled and said, 'Yeah, I'm fine.'"
Ultimately, JP sees "Diary of a Madman" as a story worth exploring because "it's pretty deep, and definitely challenges people's emotion, I think."
Voxxx spoke to XBIZ and described the experience as a rare opportunity for an adult performer who is into extreme kink and who wants to expand her acting repertoire.
"What makes this movie different from most projects I work on, especially with JP, is definitely the role-play — the really getting to act and take on a character," Voxxx offered.
"We both got to take on characters that were a more dramatic version of what we'd done together in the past and we did a lot of consensual non-consent role-play throughout the series."
"The extent that we took [the action] — it's going to be very exciting to see how people react," she said. "I think it should be pretty unbelievable."
The actress singled out a scene where the story's multiple realities collide. "That's his break into my house, and that's flashing from the delusions in his head to the reality of me being tied up in bondage," she explained. "And I'm realizing that this guy has broken into my house and he does not have good intentions for me."
"That's the first scene that really required me to go into my other space of being a victim to a degree and it's very exciting," Voxxx told XBIZ. "I cannot wait till people see it."
A Gift for an Actress
For Voxxx, "Diary of a Madman" should serve as a calling card for more adventurous roles in her career.
"Acting is a huge, huge interest for me and always has been," she said. "I haven't always had the opportunity to participate in the roles that I would like to and this was definitely a huge step forward for me. JP gifted me a real test for my acting skills. It was very different from typical porn because it was about the story; it was about what happened to this girl and how demented this guy is. It was really about his delusions and not just about, 'How many whats I can fit in my wheres.'"
And even though the movie is clearly a fiction, JP and Kink decided to do the customary pre-interview and exit interview with the performers.
"If this were a Hollywood movie and The Rock and Ben Affleck or some celebrity played the exact same Madman but took the XXX part of it out, there would never be an interview to make sure it was okay. People would just assume it's acting," JP explained. "But because we dance on that fine line of consent we wanted to make sure that the interview was still there. We actually shot a beginning interview like we usually do, but we kept it really short because we made it clear that what we didn't have 'red' and 'yellow' safewords. We went beyond that: if it needed to stop, it would stop immediately."
"We were acting, so if something wasn't right she could break character immediately and say, 'Hey, we need to talk about something,' and we had discussions on a daily basis, and before every scene, and we constantly did check-ins throughout because we wanted to make sure, because she was acting so well."
"It fooled me," JP confessed. "There were a couple of times when I said, 'Oh, shit' and she went, 'No, no, I'm good' and so we would go back into it."
"We did a BTS reel showing what we were shooting, and with the after-effects what it actually turned out looking like, and there's a 15-to-20-minute interview that her and I do on the BTS roll that also talks about consensual non-consent."
"I feel that I did a good job doing this," Voxxx agreed. "And myself and JP and his wonderful script. I hope all the fans feel the same."
"Hopefully this is the first of a series that we'll continue to do with different models," JP concluded, calling it "one of the most intense features I've ever done."
For more about "Diary of a Madman," visit Kink.com.