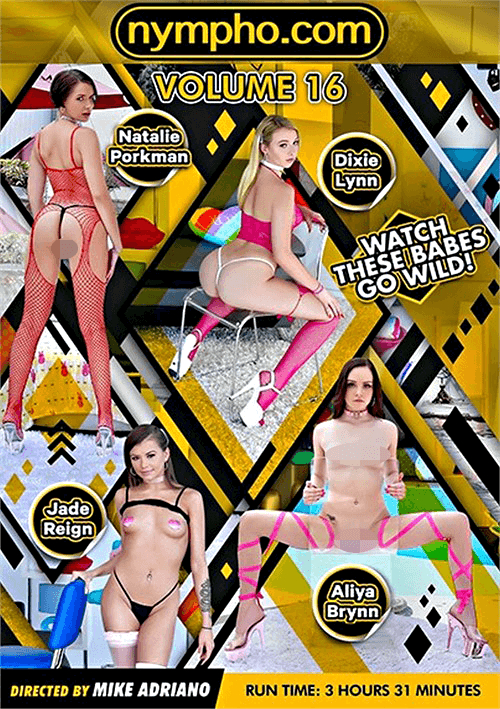 Whoa! Talk about a batch o' bawdy babes! I mean, Natalie Porkman alone is enough to blow your cock out of its socket, as Mike Adriano and Logan Long do their doggone-dest to destroy these young, excited/exciting ladies' tonsils and twats Yes!
Porkman (love the short hair) is just amazing all-around, what with that cute face, her pert tits and an incredibly round, marshmallowy butt; and the girl is so willing to get her face and pussy fucked, which is precisely what happens, care of the over-worked shlong attached to Logan Long. And don't you just love Nat's red fishnet outfit, with a big open space for her equally big ass? I also love how she produces tons o' spit as she gags on Logan-log. Hell, this entire movie could be just a spotlight on Nat (yes, she's that awesome!), who even dares to eat Logan-ass. Nass-tay! Cowgirl lets you enjoy Porkman's oiled-up/phenomenal posterior, with a heart-shaped buttplug up her anus, removed after some doggie (this rear pummeling being a gonzo highlight in itself). Reverse-cowgirl lets you enjoy Porkman's pretty face, with Logan cumming into her pussy during missionary, Nat pushing it into a martini glass, then drinking the it down whole. Good girl!
Young and curious Aliya Brynn possesses a curvy body, giving the returning Logan a choice deepthroating, her eyes even turning red at one point, getting lots of saliva all over Long-prong (and the camera!); while you get to enjoy Brynn's meaty thighs and equally meaty vadge during missionary (our girl sincerely moaning and grunting); Aliya ever so animatedly bouncing on dick during cowgirl with her greased-up butt and web-like pussy ("Oh … play with my asshole," she sluttily states, followed by, "I just learned how to wink my butthole today and I love it"); Logan soon explodes sperm into her face after a banging session of doggie. "So messy," she states, loving every drop of it, as she (like Porkman) swallows all o' that spermatozoa.
Mike Adriano saves blonde and big-bootied Dixie Lynn for himself (such a babe, with priceless porn looks!); and check out the sloppy, slurping, loud bj she delivers to Mikey-meat; cowgirl and doggie, of course, really letting us imbibe of dynamic Dixie's derriere, with Mikey sticking a finger up her butthole during his doggie drilling and having her taste his stinky pinky; eventually dumpin' a load o' love into her pussy during doggie (hell, I don't blame him!), then having Dix squat down and futilely try to push it out—hey, that hungry pussy already ate all o' that jizz, man!
Adriano also enjoys Jade Reign; she's not only pretty (really pretty!), but oh so sexy, delivering another out-of-this-world bj, balls-deep and perhaps the best suck-off in the movie (though I certainly have a hard/soft spot for Natalie); and Jade is such a superlative spinner, sitting on Adriano's boner for some outstanding cowgirl (she works it like a true pro!), which is another rewind-worthy movie moment, just like doggie with Jade, who likes to kiss, eventually breathlessly announcing to the camera, "He's putting his finger up my ass while fucking me really, really hard … and letting me taste my own ass." And just check out those thick, scrumptious thighs during missionary; Reign lustfully laughing as the camera focuses on her superb face and big-lipped (though still attractive) twat. "You gonna cum in my pussy?" she asks Mikey with sincere smile, while gently rubbing her clit, then smirking at the camera, and, after Mikey shoots her vadge fulla foam, pushing the custard out, fairly successfully, too. Love her! Yep, she's definitely my future ex-wife!
This rockin' gonzo is bookended with two truly off-the-scale vixens: Natalie Porkman and Jade Reign; though spinner Aliya Brynn and succulent Dixie Lynn will certainly make your dick happy. Fantastic fucking stuff!