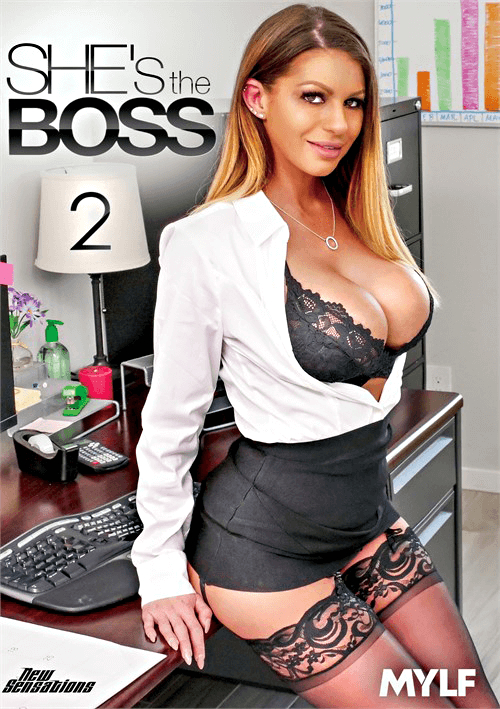 Not to be confused with the very '80s Mick Jagger solo album back in the day (or that sitcom with Tony Danza), "She's the Boss 2" features a number of highly bone-worthy MILFs who most certainly get radically boned, indeed, in a quartet of scenes with just enough storyline to make things all the more arousing — high points especially going to short-haired Ryan Keely, petite blonde Nina Elle and curvy coquette Brooklyn Chase — all from the good pervs at MYLF.
And none other than Keely starts things off, playing a high-powered divorce attorney who shows her younger male paralegal how to "handle" older women in the field; Keely simply devouring the dude's dick as if it were a foot-long at a Dodgers game (remember those?), and I'm talkin' to the base/bone/balls!; while she proves a fine specimen in the doggie-banging department, with that marvelously big, floppy butt; though I similarly dug her squatting action during cowgirl, which includes more butt jiggling (Keely nearly breaking the desk upon which she and her protégé are crazily porking one another); and you get a good view of Rye's large tits revolving during both reverse-cowgirl and missionary, before our young stud inevitably blasts dick-squirt all over Keely's face and tits. Whew!
Red-haired hottie Lauren Phillips (looking great in a business outfit!) is a cum-petitive entrepreneur who jumps the bones of a hot-shot salesperson, played by Ryan Mclane, right in her office; best moments here being a deep missionary plowing upon (you guessed it!) Lauren's rickety desk, with loud, horny moans from fill-er-up Phillips; a tongue-focused blowjob; some spirited doggie, with a wee bit of spanking and choking, leading to standing doggie that's loud and slammin' (Lauren loves it), during which (hilarious!) Ryan takes a brief break to get a cup of water at the cooler; while there's more choice butt-bongo-bobbin' during cowgirl. Lauren's definitely good at this sort of thing!
Like Keely, Nina Elle is another highlight in this MILF anthology, here getting all wet and horny in her swimming pool, before she drags the pool boy into her boudoir, making him give her an erotic oil massage, leading to one apocalyptic suck/fuck. Aside from a pretty face, nicely augmented boobies and a terrific tushy, Elle is totally nasty in bed. Her loud, wet, sloppy, gagging blowjobs alone will get you off. And there's never a bad porking position with Elle, though I particularly liked doggie (she seems in some sort of heaven getting heartily hammered here) and missionary, which is wildly energetic, giving you a wonderful view of Elle's meaty thighs, slutty tits and sex-crazed face. Love ya, Neen!
And we end with a definite bang, as brown-haired, heavy-hootered, big-assed babe Brooklyn Chase takes on (the returning) Ryan McLane, playing an office manager on the verge of laying off Chase, with Brooklyn bribing (quite successfully) McLane with a suck/fuck right there in the empty office; highlights being her nasty deepthroat actions, as well as high-energy doggie and cowgirl, with that juicy Chase ass swaying all over the place, while she also likes getting choked, even in a makeshift manner with Mclane's belt. Kinky gal.
These four MILFs abso-fucking-lutely know how to handle a dick with their wet pussies and greedy mouths, especially Keely, Elle and Brooklyn, who seem (and surely are!) nothing short of insatiable; porn, in turn, being the perfect industry for such slutty seductresses.