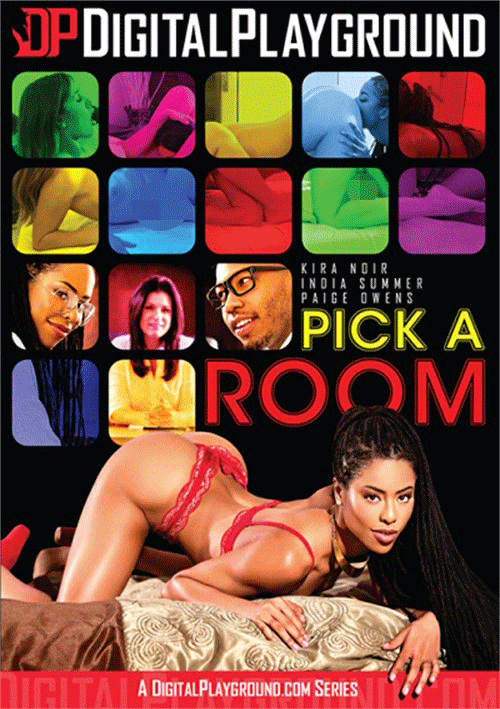 Kira Noir and Ricky Johnson play a married couple whose bedroom life seems fairly dead — though Noir is one hot, horny gal, sincerely wanting to get hammered good and hard — with the troubled pair ultimately going to see a sex therapist, played by India Summer, who tries to spice up their dried-up humping practices with a form of hypnosis, whereby Noir and Johnson experience animated virtual sex with different, more-than-willing partners within their minds. And, even though there are only three scenes in this very couples-oriented DigitalPlayground.com series, each sequence is most definitely whackworthy.
Looking positively exquisite in her own particular erotic dream, the taut-bodied-but-still-luscious Kira is teamed up with Manuel Ferrara; the two getting down in an honest-to-goodness bedroom, on a king-sized bed; with Noir giving a magnificent deepthroat of a suck-off, leading to sizzling 69, a wee bit o' gnarly rimming (courageous girl, that Kira!), smokin' cowgirl (when, that is, Manny's hands aren't in the way), satisfying missionary and (the big payoff) out-of-this-world doggie with that small but succulent Kira butt getting royally rammed on the edge of the bed, leading to a major whitewashing of Noir's gorgeous face. She loves it! As always, Kira delivers a high-energy, far-from-disappointing performance.
Next, Ricky finds he and his pricky in his own room, this one harboring the bossy therapist/MILF, Ms. Summer, wearing an awesome full-body black fishnet outfit, which she happily rips to get some tongue and dick into her sopping pussy during the course of this way-passionate sequence. Summer gives a loud, wet, filthy, balls-deep blowjob (the best in the movie), and looks great in all positions, from missionary, to cowgirl (what a terrific rear end on Summer), doggie, spoon (that's really pummeling), with the latter giving us loads of intense, horny eye contact, before Ricky pops his dicky juice all over India's tongue, the stuff just drip-drip-drippin' down from her lips onto her already-wet-from-sweat chest. Good stuff! India is such a marvelous fox, and she quite obviously enjoys her work.
And we end with a nuclear all-girl ménage-a-trois, featuring Kira, India and (one of my all-time faves in the current biz) Paige Owens, with this torrid trio sincerely lusting for each other's pussy. Orchestrating the nastiness, India (all oiled up) right off the bat gets two tongues straight up her pussy simultaneously (whoa!), followed by India eating Kira doggie style, Kira servicing Paige via missionary and loads more potent positions; my favorites being Paige sucking deep on Kira's twat during missionary and doggie ("Fuck," Owens perversely tells Noir in-between licks, "your ass is so fucking juicy"), as well as both Summer and Noir worshiping that killer Owens' backside (butthole and pussy) while it's bent over in all of its worldly glory. A sizzling inter-lewd, to say the least, with not a vibe nor dildo rearing its ugly fake head throughout. Yes!
Simply put, "Pick a Room" is nasty enough for hardcore fans yet tasteful enough for curious, exploring couples; especially thanks to the intense carnality care of Noir, Summer and (ooh, la, la!) Owens.