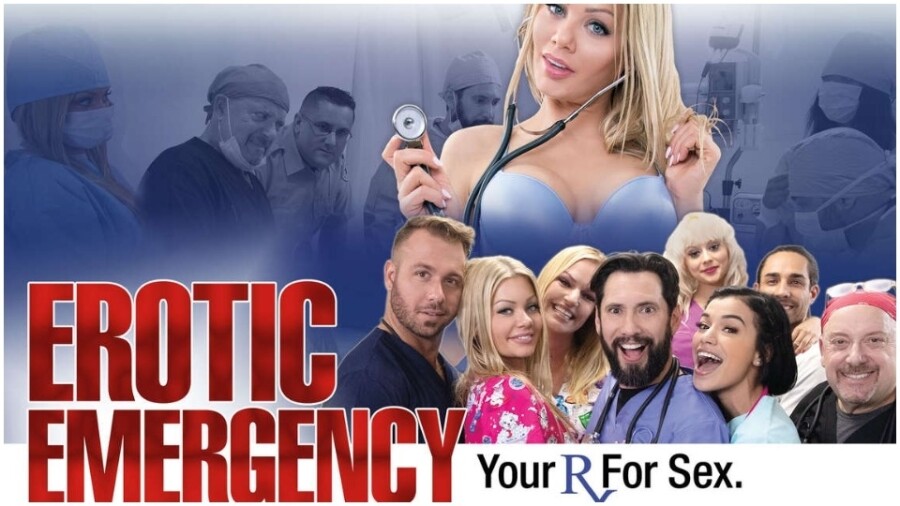 HOLLYWOOD, Calif. — Director Will Ryder's XBIZ-winning "Love Emergency" for Adam & Eve Pictures is set for national broadcast Friday at 1:50 a.m. (ET/PT) on Showtime's The Movie Channel, where it will be retitled "Erotic Emergency."
Earlier this year, "Love Emergency" earned the XBIZ Award for "Comedy Release of the Year," while cast members Tommy Pistol and Brad Armstrong won trophies for Best Comedy Actor and Best Supporting Actor, respectively.
"This is really quite an honor seeing our original story and our amazing cast appear on Showtime. This is as big as it gets in this business," said Ryder.
Besides Pistol and Armstrong, the sprawling cast of 27 includes Jake Adams, James Bartholet, Edyn Blair, Christy Canyon, Rachael Cavalli, Bambi Doll, Ryan Mclane, Nia Nacci, Kenzie Reeves, Savannah Sixx, Astrid Starr, Riley Steele, Misty Stone, Sarah Vandella, Chad White and Liv Wild.
"I like the new name even better than the original," stated co-producer Scott David, with Ryder adding, "Hey, we're talking Showtime here, they can do what they want."
Pistol plays "an unemployed panhandler living in his mom and redneck stepdad's basement who is forced to apply for a janitor position at the local hospital, but when his idiot friend hacks the computer, he mistakenly gets hired as an emergency room trauma surgeon and quickly falls in love with a beautiful nurse," a rep said. "His desire to stay employed leads to havoc and insane times."
Adam & Eve Head of Production Rachel V praised Ryder's accomplishment.
"This is a hilarious, sexy movie that just won at XRCO last week, so to see it slated for broadcast on Showtime is really rewarding," she said.
"Erotic Emergency" will be rebroadcast on The Movie Channel following Friday's premiere; the feature is also streaming on-demand.
Direct licensing and broadcast/streaming inquiries to Peter Reynolds at peter@plaidbagmedia.com or call (818) 332-2275.