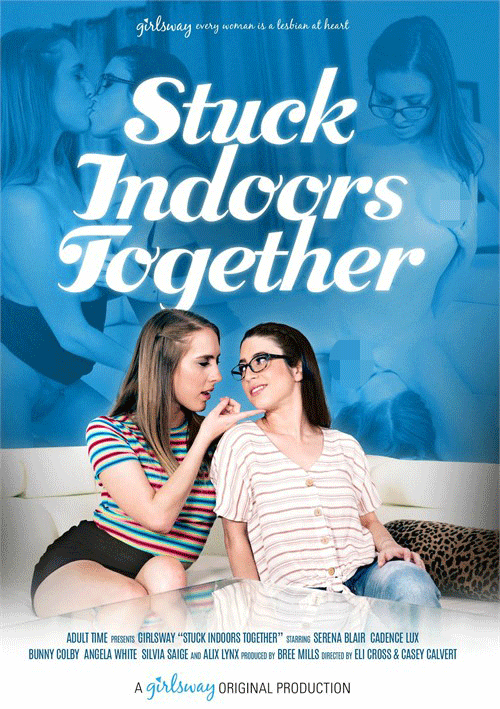 This movie presents a small collection of more recent scenes from the girl/girl Gamma brand Girlsway, with several of their greatest hits.
"Stuck Indoors" (Cadence Lux and Serena Blair):
This titular Girlsway episode tells the story of two strangers who find themselves unexpectedly stuck with each other. After discovering their Air BnB host accidentally double booked them for the same long weekend, Cadence and Serena end up stuck inside together the entire time due to a terrible storm. Card games and zombie movies can only entertain for so long and eventually, cabin fever and curiosity start to set in.
This is some good sex. Cadence Lux is such a good performer. She really immerses herself in her partner, and watching her feast hungrily on Serena's box is quite the treat. I absolutely loved the way Cadence ran her tongue from Serena's asshole all the way to her clit while Serena was sitting on her face, and judging from Serena's quivering response, she loved it too. I also really liked the soft romantic music that played as the encounter ended. It gave the scene a nice intimate touch, as if the audience just watched the culmination of a cute love story.
"Can't Escape Their Past" (Bunny Colby and Serena Blair):
Recounting the tale of sister-in-laws Bunny Colby and Serena Blair as they share an awkward evening in an escape room, this scene delivers. When Bunny's husband (Serena's brother) fails to show up on time for their planned evening in a popular escape room, the host (Casey Calvert), informs them that if they don't get started they'll lose their spot due to the high number of patrons waiting. Loathe to miss their opportunity at a good time, Bunny and Serena decide to tackle the room alone. As the night progresses and the two in-laws spend more time alone, the conversation turns to a secret fling the two shared.
Serena wants to revisit the electric attraction the two shared, but Bunny is worried about being faithful to her husband. Eventually, lust gets the better of them and with the door locked anyway, the two decide one more go 'round can't hurt. Bunny Colby is so sexy! Amazing rack, enticing curves, and a delicious skin tone combine to make her a right yummy treat. As with the previous scene, Serena is on the receiving end of a relentless tongue lashing, and she reaps the orgasmic benefits repeatedly. I really enjoyed watching Bunny bury her face in Serena's pussy as they 69ed on the couch. There was something really dirty about the way that looked.
"Noise Complaint" (Angela White, Silvia Saige, Serena Blair and Alix Lynx):
One of the things Girlsway has consistently done is bring scene suggestions from their members to life on the big screen. This scene was inspired by Girlsway.com member Metalhead42 and involves a raucous bachelorette party that has gotten out of control. After multiple noise complaint calls, officers White and Saige arrive to break up the festivities, but the drunk party girls mistakenly assume the cops are strippers. Officer White convinces her partner to go along with the harmless accident, citing the possibility of a good time and potential good PR with the locals. Begrudgingly, Saige agrees.
Predictably, the fun and games breaks down into a sexy foursome, with bride-to-be Blair getting to shine the brightest. She laps up an ample sample of Angela and Silvia during the action while getting her own pussy slurped hungrily by Lynx. The contrast between Silvia and Angela's naked bodies was pretty striking, and I couldn't help but gaze at the two of them whenever they were in close proximity to each other. They really highlighted each other spectacularly. There's a visually stunning sequence that includes a scissor and some face sitting that will have audiences fapping themselves silly and it's the perfect climax to this collection.
This is another fine collection of lesbian scenes from the folks at Girlsway. It's always nice to see members have their ideas rewarded in such a significant way, so again, congratulations to Metalhead42 for inspiring the biggest scene here. Bunny Colby and Cadence Lux stand out nicely, and the foursome to close the action is a rocking good time.