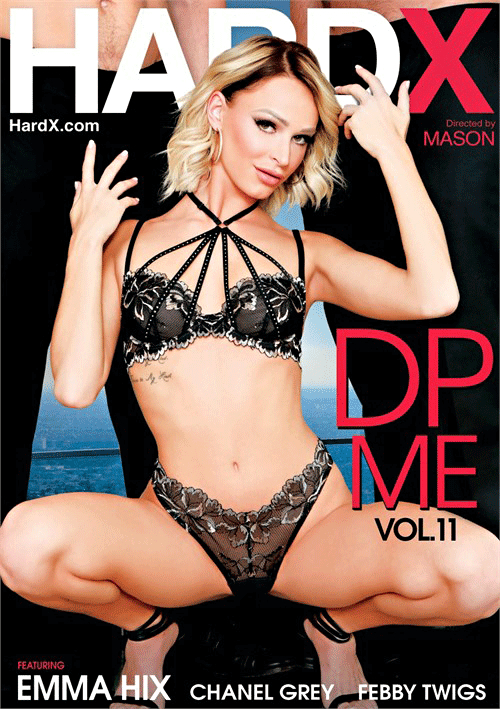 There's nothing like a double-penetration gonzo, i.e., a crazy collection of totally delectable female sluts getting both of their nether holes simultaneously stuffed to the max. It's salacious. It's surreal. It's super. And it's all yours — times four! — in "DP Me 11," featuring (along with two other tasty gals) the amazing Emma Hix (hornily gracing the DVD box cover for good reason!) and the ever-luscious Jada Steven (here getting insanely double-analized!).
Febby Twigs is a cute gal, with quite the voluptuous bod, bravely taking on the unruly roots of Ramon Nomar and Mick Blue; her ass cheeks shakin' during regular doggie and cowgirl, as well as (yes!) doggie DP; Febby loving it when she's choked during reverse-cowgirl DP, both double-penetrative positions being repeated a few times (doggie at one point really eye opening, as fab Feb does it while doing an athletic leg-split!), before our girl happily accepts a double facial cum bathing.
Nomar and Blue return, this time to double-hump always-awesome spinner Emma Hix (love her curled vixen's upper lip, taut figure and succulent ass), doing a magnificent bit of deepthroating (those cocks go way down her gullet in wet and noisy splendor), while it's a thrill seeing Hix get (so soon!) doggie-analyzed by Ramon-rod while gagging on Blue-boner; after which the lads switch holes; followed by a world-class doggie DP (an absolute movie high point!) and spoon-DP (ditto!), with Emma getting just so turned on; while we get to see that tight Hix stomach and more of that juicy Em butt (right in our faces) during reverse-cowgirl DP, leading to a brilliant standing DP, more doggie DPin' (whew!), while I just can't get enough of Em's sexy-as-fuck face (eyes frequently rolling into the back of her skull during multiple points of ecstasy), with this wonderful minx ultimately gorging on all loads of sperm, after her unique face and pert tits are coated with the stuff. You're the best, Em!
Blonde Chanel Grey is dressed in a fetching black latex outfit (which is discarded soon enough!), with her DP being fun to watch as her marvelously big booty is bent over, her anus crammed fulla dick, while her pulsating twat is likewise jammed with salami — getting said orifices passionately pronged at the same time by John Strong and (does he ever take a break?) Mick Blue; with some incredible balls-deep action a la Grey, (watch her eyes turn red from such extreme oral action), while I also enjoy viewing her get drilled by each guy separately, especially standing-doggie-anal, what with that bodacious booty.
And we end with one of the most succulent women in the biz, the scrumptious Jada Stevens, getting volcanically DP'd by Erik Everhard and (again?!) Mick Blue; high points being Jada's mouthwateringly round, oiled-up treasure of a butt getting doggie DP'd a few times (talk about major, massive jiggle action!), as well as some choice deepthroating, and (are you ready?) double-anal action during her reverse-cowgirl DP (with some striking eye contact from the tanned and tasty-as-hell Jada), followed by double ATMin', a screamin' (she's screamin', alright!) double-anal doggie DP, concluding with a full-on cum-cocooning of that pure-porn face (eyes, nose, teeth!). Nasty! Jada rocks!
This gonzo is simply fantastic, with each girl — especially Emma and Jada — unleashing their inner slut during scalding episodes of double-dick attacks to mouth, vadge and butthole. "DP Me 11" is what porn is all about!