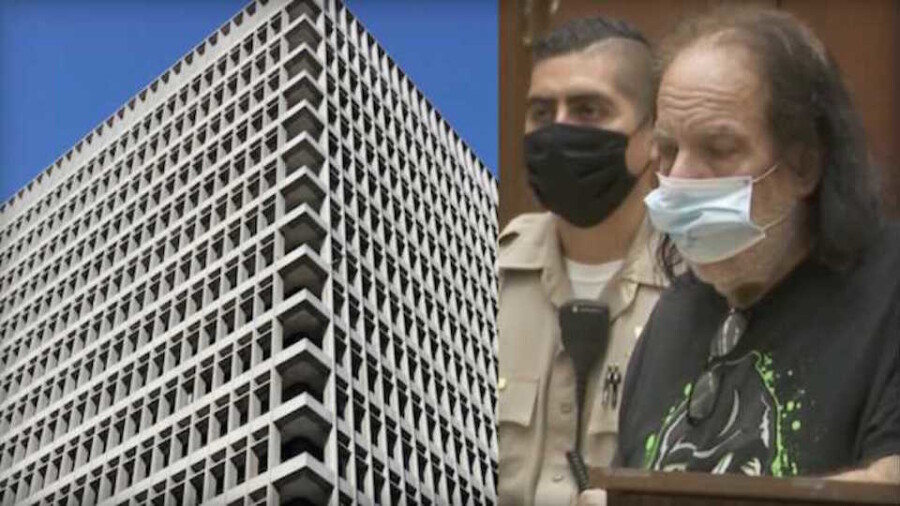 LOS ANGELES — The preliminary setting hearing in the Los Angeles criminal case against Ron Jeremy has been postponed, once again, until January 11, 2021.
Judge Jose I. Sandoval presided over the hearing at the Clara Shortridge Foltz Criminal Justice Center, which, under new health and safety rules, currently does not allow relatives, friends and non-press public to attend hearings.
Jeremy's defense, led by veteran Los Angeles attorney Stuart Goldfarb, asked for a continuance after filing a new discovery motion. Sexual assault cases have special discovery rules designed to protect the safety of the victims, and the defense is requesting those special rules to be relaxed to identify the individuals behind the assault allegations in order to answer them.
Goldfarb told XBIZ that he cannot conduct a proper investigation to exonerate his client unless he knows who the 23 victims cited by the District Attorney's Office are, or the almost-50 witnesses.
The prosecutors — Deputy District Attorneys Paul Thompson and Marlene Martinez — opposed the motion. Goldfarb asked the judge for extra time to file a reply to the opposition.
The previous preliminary setting hearing had been continued on October 28, after an initial postponement on August 31. Twice during previous hearings the prosecution had added more charges concerning other alleged incidents of sexual assault and rape.
Jeremy, wearing an orange prison suit, was marched into the courtroom shortly before 11 a.m. (PST). His signature black dyed hair is now almost completely faded out and he sported a massive white beard visible under a black-and-orange cloth face mask.
A Criminal Case With 35 Counts
Jeremy was arrested and charged with the first batch of charges on June 22. He was arraigned and pled "not guilty" that week. His bail was set to $6.6 million and he has remained in jail since that date.
The criminal case summary now shows 35 counts. If convicted, Jeremy now faces a possible maximum sentence of more than 330 years to life in state prison.
During a late-August hearing, Deputy DA Thompson of the Sex Crimes Division added 20 more charges to the original eight. During the last hearing, on October 28, the DA's office filed seven additional sexual assault counts involving six additional victims and spanning from 1996 to 2020. The case against Jeremy was then amended to add three counts of forcible rape, two counts of forcible oral copulation and one count each of sexual battery by restraint and assault with intent to commit forcible digital penetration.
As of today, the crimes alleged by the office of District Attorney Jackie Lacey against Jeremy add up to: 11 counts of forcible rape, eight counts of sexual battery by restraint, six counts of forcible oral copulation, five counts of forcible penetration by a foreign object and one count each of sodomy, assault with intent to commit rape, assault with intent to commit forcible digital penetration, penetration by a foreign object on an unconscious or sleeping victim and lewd conduct with a 15-year old girl.
The incidents now involve 23 victims.
Jeremy pleaded not guilty to all the charges.
During Jeremy's bail hearing, on June 26, Deputy DA Thompson justified the unusually high bail his office requested by referring to the sheer number of allegations of what he termed "sexual violence" that have been made about Jeremy, some of them going back 30 years.
Although the DA's office initially only found enough evidence to warrant charges over four incidents over a period of five years, during Jeremy's arraignment Thompson cited 38 allegations to justify his claim that Jeremy's freedom represents "a risk" and "a danger to society."
First Hearing Under New DA George Gascon
This is the first hearing since George Gascon replaced Jackie Lacey as Los Angeles District Attorney, after defeating her November 3; Gascon was sworn-in last Monday.
Lacey had cited the three high profile cases — including Jeremy's — handled by the special unit she founded, the "Entertainment Industry Sex Crimes Task Force," during her failed bid for re-election as DA.
Jeremy is only the third man to be charged after being subject of a probe by the Entertainment Industry Sex Crimes Task Force. That task force was formed by Lacey in 2017 to investigate sexual misconduct allegations in the entertainment industry, after receiving criticism concerning her office's handling of the Harvey Weinstein allegations.
Besides Jeremy's arrest, years of work and expenses by Lacey's Entertainment Industry Sex Crimes Task Force resulted in only two other sets of allegations reaching the prosecution stage: those against Weinstein, who is already serving time in New York, and against mainstream producer and agent David Guillod, filed by the Santa Barbara District Attorney.
Guillod was initially released on bail but was arrested again in late October by the LAPD on a new accusation concerning a very recent incident.
Main Image: The Clara Shortridge Foltz Criminal Justice Center and Ron Jeremy during his first arraignment hearing in June (XBIZ/Photo Pool).