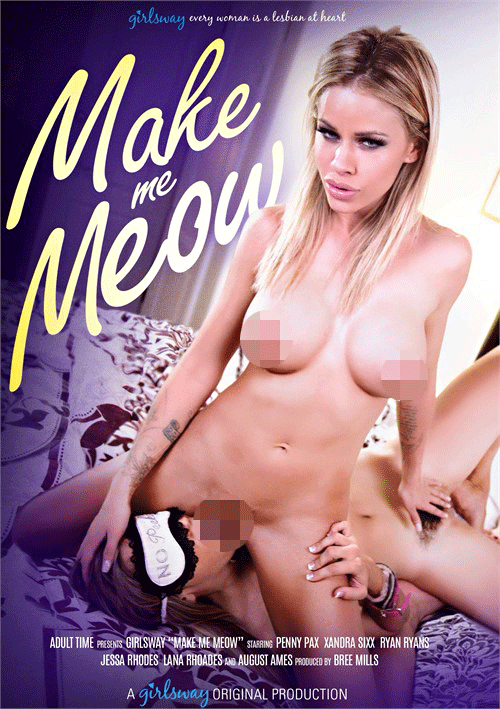 A collection of scenes from Girlsway showcasing some of Bree Mills' stellar work.
"Wet Dreams: Part One" (Penny Pax and Xandra Sixx):
After a long night of hearty partying that lasts well into the next morning, Xandra and Penny head back to Xandra's place. Exhausted from their long night, both ladies are excited to crawl into bed for some much-needed rest. But when Xandra reveals herself as a nude sleeper, things get a bit awkward for Penny, who opts to sleep in her dress instead of joining Xandra in the buff. Later that evening, Penny is unable to sleep, and can't help but masturbate as she steals glances at Xandra's body. Naturally Xandra wakes up, but rather than let things end, Penny convinces her friend to "try some stuff." I think Penny Pax is one of the best performers; there's just so many little things she does well, like effortlessly keeping her pussy open to the camera while munching on Xandra's box. There's some sexy rimming from Xandra which is great, and she really feasts on Penny during the 69. The coolest part of this scene is the dream reveal at the end, which is subtlety hinted at earlier with a blink-and-you'll-miss-it visual cue.
"Tied Up Naked" (Ryan Ryans, Jessa Rhodes and Abby Cross):
This scene tells the story of Ryan Ryans who has been dating her secretary Abby Cross for quite some time. One evening, Cross decides to surprise Ryans by handcuffing her to the bed and blindfolding her. Intrigued, Ryans agrees, but soon finds herself wrapped in the lustful arms of Jessa Rhodes, whom Abby has secretly invited over. Soon enough, Ryan figures out that it's not Abby fondling her, but her libido bests her inhibitions and she goes along with the ploy. The fact that Ryan keeps her blindfold on the entire time amps up the arousal factor exponentially. Inhibiting the senses during sex really changes the dynamic and sensations, and watching Ryan practically beg Jessa to touch her without knowing what's coming next because she can't see is pretty damn spicy. I love the way Jessa controls the action, repeatedly denying Ryan the release she's craving. When Ryan finally gets to take off the blindfold, it's Abby she sees even though her intuition tells her she was just fucking someone else. It's a mentally kinky finish that wraps up the story nicely.
"Naturally Stacked Stories: Chess Match" (Lana Rhoades and August Ames):
This Girlsway scene from 2017 recounts the story of two high school besties who found their connection through their school's chess club. After graduation, the two friends drifted apart as they attended different colleges and August's mom remarried. With a new stepsister who was big into the party scene, August began to move past her nerdy roots and embrace her inner wild child. Still, she always found time to play chess with Lana over the phone every Sunday. When August finds out Lana is in town, she's beyond excited to reconnect with her friend, but worried that her new lifestyle could be an unscalable wall between them. As August and Lana rediscover each other, August introduces her to the carefree world of self-gratification and lesbian experimentation. Putting her trust in her friend, Lana lets her inhibitions fall. This is a stereotypical lesbian fantasy, where the beautiful gay girl seduces the equally beautiful straight girl and both performers play it well. August is playfully suggestive but persistent, while Lana is innocently curious but nervous. The other linchpin of this fantasy is big natural tits, of which both women have an abundance. It's pretty crazy how quickly Lana goes from shy and unsure of whether fucking a woman is a good idea to full-on pervbot. Then again, who could blame her with the gorgeous August Ames filling the room with her irresistible sexual energy?
This collection is a great sampling of the fantastic lesbian content that regularly comes from Girlsway. The cast is great, the stories are relatable, and the production value is quite high. Ryan Ryans and Jessa Rhodes steal the show here due to the muted intensity of their scene, while Penny Pax and August Ames bring a comforting level of warmth to their scenes that will make audiences smile. Bree Mills' work continues to set her as a standard in the lesbian erotica arena and it's very cool to see how she has evolved as a storyteller and filmmaker.