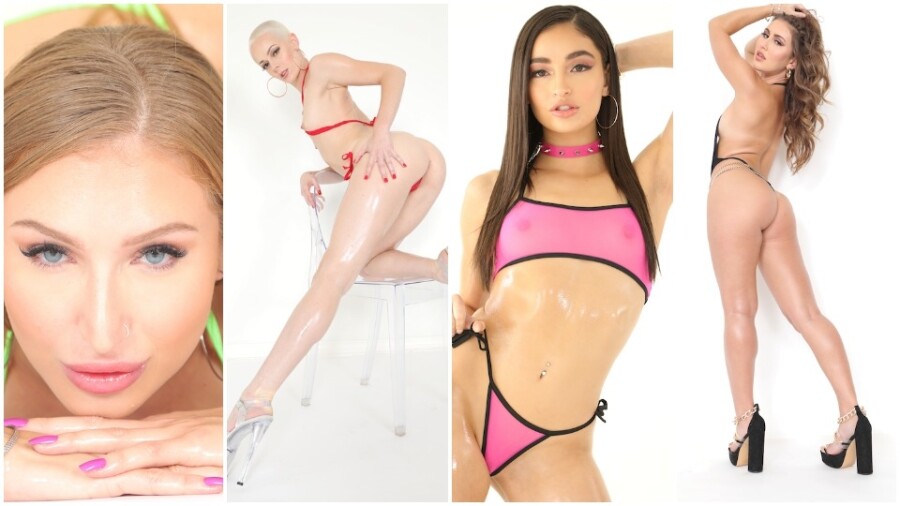 LOS ANGELES — Starlet Skylar Snow has the box cover spotlight of "Squirt for Days 2" from Evil Angel and "polished pornographer" Pat Myne, premiering today in all formats.
Sidra Sage, Paige Owens and Emily Willis fill out the cast with Ramon Nomar and Michael Stefano.
"Squirting is my favorite thing to shoot," Myne exclaimed. "I love everything about it — the way it looks, the way it feels, the way it tastes. 'Squirt For Days 2' is a squirt-and-anal party. The world needs more squirt."
"Skylar took it to another level — I think her goal was to drown me with her squirt. She almost did!" he added.
Evil Angel Founder John Stagliano praised the camerawork and chemistry among the cast.
"Wow, Pat shoots the squirts so well, with total emphasis on the orgasm fetish," he said. "Pat shoots gorgeous, sexy camera angles on the girls, with just the right amount of time on each tease shot. And then there is the hardcore — this is cutting-edge hardcore porn at its best."
Snow enthused about her experience filming the action.
"I had the best time shooting this scene with Pat," she said. "I felt like the theme of this scene — anal and squirting — was right in my wheelhouse. He paired me with the amazing Michael Stefano, and the three of us made magic."
After securing Nomar's services in three scenes, Myne was confident about his initial casting choices.
"I knew who I wanted in 'Squirt For Days 2′ — Skylar, Emily, Paige. What can I say about Emily and Paige? I love these two ladies that kill it for me every time I shoot them. Both were squirt maniacs in this movie," he said. "I wasn't sure who would be the last girl. Then I saw pics of Sidra. She was so unique-looking. Soon as she told me she squirts, it was on. I never shot her before, so I was a little nervous, but the moment she got here, I knew it was gonna be great. And it was."
"Squirt for Days 2" is available now in all formats; the first scene is live on EvilAngel.com with the remaining scenes to debut December 27-29. Visit Evil Angel on Twitter for the latest updates.
For domestic sales, contact Rick Porras at rick@evilangel.com; for international sales and licensing, email Alexandra Kelley at alex@evilangel.com.