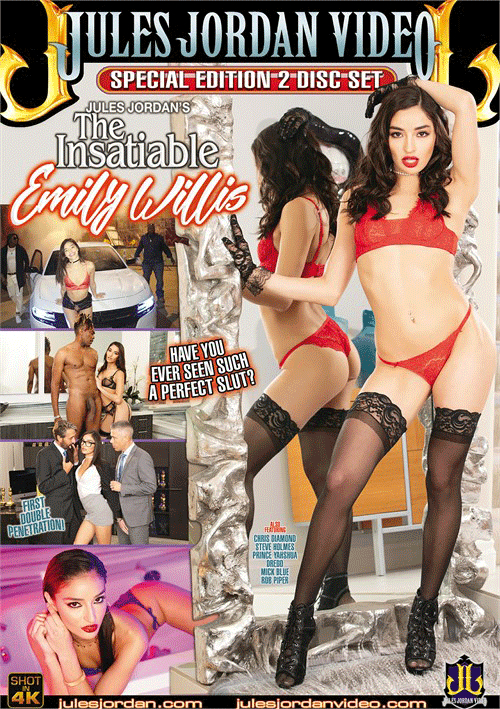 "The Insatiable Emily Willis" brilliantly showcases this young-and-dying-for-cum, delicious brunette spinner, who is a pleasure to view from head to toe in a double-disc gonzo epic, while she's also a joy to behold getting boisterously banged in each of her wet and steamy holes. And in these five scalding scenes with the wanton/wicked Willis, you won't be disappointed for one freakin' second, trust me.
After some atmospheric, neon-glazed glamour footage of Em in a sudsy bathtub, she magically shifts to a living room, with Chris Diamond feeding her ever-famished mouth cock while she's upside-down, afterwards heatedly banging her pussy missionary style on a swivel chair, followed by doggie-vadge, doggie-anal ("I'm gonna come on your cock, deep in my fucking asshole," she groans), ATMs ("I wanna taste my fucking juices"), followed by cowgirl-anal (awesome squatting action a la Em), many more moments of furious face-fucking (she goes deep and loud!), reverse-cowgirl-anal, and back to cowgirl-anal (check out how she grinds on that throbbing beef stick), sucking Chris-cock off to ("I see your cock ready to burst") explosion. "Don't I look cute with all this jizz all over my whore's face?" Em purrs. Such a sweetie.
In scene two, Steve Holmes and Mick Blue play exec types who get it on with a secretary, Emily, in what looks like Jules Jordan's own office (you can see all of the movie awards), with the older gents sharing this more-than-willing tart ("I love how you guys take turns with me," Willis gleams), eventually shifting from vadge to vapor love; a movie highpoint being spoon DP as Em reclines on the desk, followed by a fantastic doggie DP on Jules' red sofa, a reverse-cowgirl DP, another (yes!) doggie DP, a standing DP (excellently shot from below!), with Em taking a double bath o' ball butter, right down into her velvety gullet, after which she gargles with her fresh sperm-smoothie and swallows it whole with absolute relish. "Every last bit of jizz", she proudly smiles. "Thank you guys for fucking out my little slut holes." Adorable.
We next see Em in the passenger seat of a car at night jacking herself off, then sticking her naked torso out of the back window (it's in slow-mo and very cool, with Em's face just glowing with glee), our girl eventually getting a double dose o' dick (indoors) with Rob Piper and Prince ("There you go!") Yahshua; best points being raging doggie (love her ass cheeks crazily undulating), as Em simultaneously gags on a second massive meat missile, with the boys passing her back and forth and really hammerin' out her twat and tonsils. Romantic.
Next, Mick Blue takes on Em upon a porn sofa, with this episode being great for constant anal gapes from wild (and wide!) Willis; while we end on a volcanic note as older stud Dredd feeds Em's pussy and butthole with his thick love stick; excellent moments here being spoon-anal, doggie-anal (this guy's cock looks like a small arm!) with the latter position delivering us gape upon gape; Em's ATMs here are also amazing (gagging and choking and loving every inch), while reverse-cowgirl-anal lets us ("My asshole's gonna be destroyed after this!") enjoy Em's sweet, pretty face and meaty thighs, Willis trying her damndest to get that bent behemoth between Dredd's legs all the way down her throat before he fills her mouth with man-made custard, on which she happily gorges. "I milked that fucking cock dry like a good little whore," she gloats, "right out of my asshole." Poetic.
It doesn't get any better than this super salacious spotlight on the scrumptious, magnetic, ever-cock-hungry Emily Willis. "All fucked out!" are, in fact, her final words. Darling, isn't she?