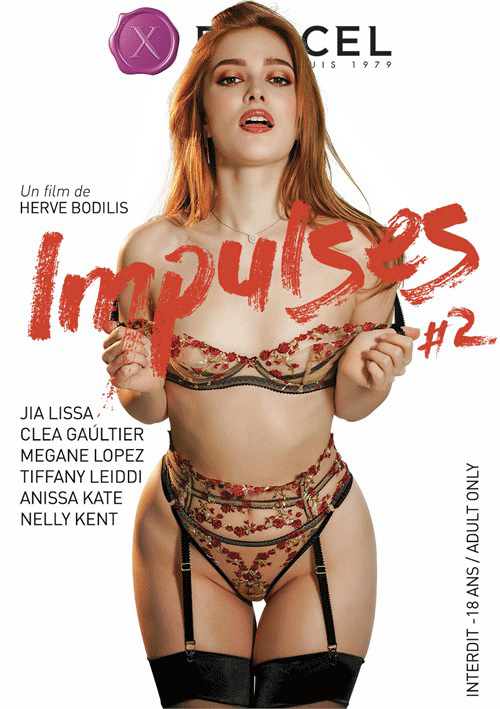 As the smashing follow-up to Herve Bodilis' well-received initial series entry, this sequel puts a tighter focus on the sex, but retains the impressive visual quality and immersive atmosphere.
Jia Lissa and Luke Hardy:
Jia arrives at Luke's flat dressed in a sexy black dress. Luke is somewhat cautious as she enters his home, and being the gentleman he is, offers to take her coat and get her a drink. Jia smiles demurely and answers him plainly: "After sex." Jia plays the role of escort here and it doesn't take long for her to get down to business. She drops to her knees almost wordlessly and gives Luke's schlong a nice polish, and eventually Luke takes her to bed.
Sometimes there's simply no need for preamble and Jia knows exactly what the order of the night is. There's kind of a dual fantasy going on in this scene. Not only does Jia play the enthusiastic escort willing to do anything Luke asks, but she also looks overwhelmed with pleasure as Luke gleefully thrusts himself into her pussy. Part of the escort fantasy is the idea that you are pleasuring her beyond anything she's experienced before, and the look on Jia's face feeds this fantasy perfectly.
Clea Gaultier and Megane Lopez:
After dropping off her partner's dry-cleaning, Clea finds herself with two free hours as he informs her he's running late. Wasting no time, she heads straight to Megane's flat for some afternoon fun. The two lovers descend upon each other hungrily, but there's also a soft intimacy between them that is sensual and erotic. There is some good toy play here (I really loved watching Megane dildo Clea's ass while Clea rubbed her own pussy from beneath her writhing body). Clea is so sexy, I could watch her do anything all day. There are a lot of close-ups in the scene, giving the audience a real bird's eye view of the didlo-pumping action. Megane desperately pounding her own pussy with Clea's hand was quite hot as well.
Anissa Kate, Lorenzo Viota, Ricky Mancini and Rico Simmons:
Gorgeous socialite Anissa Kate is putting together a big party for herself for the evening, calling up three studs who are willing to take full advantage of her. This is clearly not Anissa's first rodeo in such a situation, as all three guys seem well aware of what kind of party they're walking into.
I liked the fact that Anissa was the instigator here because it falls in line with the theme of the film which is beautiful women giving in to their most carnal impulses. Anissa and her incredible tits manage to keep every cock busy from start to finish (quite the feat honestly), and the vigorous DP is a thing of beauty.
There's a really nice overhead angled shot that captures the action perfectly while still managing to emphasize Anissa's dynamite body that I found especially immersive. What a way to showcase the wanton action!
Tiffany Leiddi, Nelly Kent and Ricki Mancini:
Old friends Tiffany and Nelly run into each other unexpectedly on the streets of Paris. Nelly has recently moved to the city and the former lovers catch up on old times (and their old relationship) over afternoon coffee. Nelly suggests they get together for a nostalgic fuck, and she shows no hesitation when Tiffany reveals she's got a husband who might want to join their fun. Holy cow does Nelly Kent have a great body!
Her rack won't quit and she's got a delicious ass. She takes a nice anal pounding from Mancini (I mean seriously she looks great on her knees with his cock stuffed up her arse) and Tiffany's beaming smile shows just how much she enjoys watching the whole thing. Tiffany gets a turn at doggie as well and she looks equally great getting railed while her tongue lashes about Nelly's pussy. This is one of the best scenes in the movie.
Megane Lopez and Kristof Cale:
On her way for an afternoon hook-up with a guy she met on the internet, Megane spends the ride assuring her friend over the phone that everything is going to be fine. I actually quite enjoyed this bit of dialogue and story set-up. Megane just casually tells her friend that she's headed to Kristof's flat for sex after being convinced in a 15-minute conversation with him over the phone. Talk about knowing exactly what you want!
When she arrives, Kristof offers her a drink, but Megane is only interested in one thing, and she gets down to business immediately. Megane really gets a chance to shine here and Kristof rocks her world. She looks great in doggie, and pretty damn slutty in missionary. I love the way she holds her knees up to open her legs and give Kristof plenty of room to slam her.
This is an adequate follow-up to the first entry in the series, with a couple of outstanding performances bookended by some solid sex. The threesome between Tiffany Leiddi, Nelly Kent and Ricki Mancini is the easy winner sex-wise (wow Nelly Kent is really something), but Anissa Kate also delivers a scalding performance in her foursome.