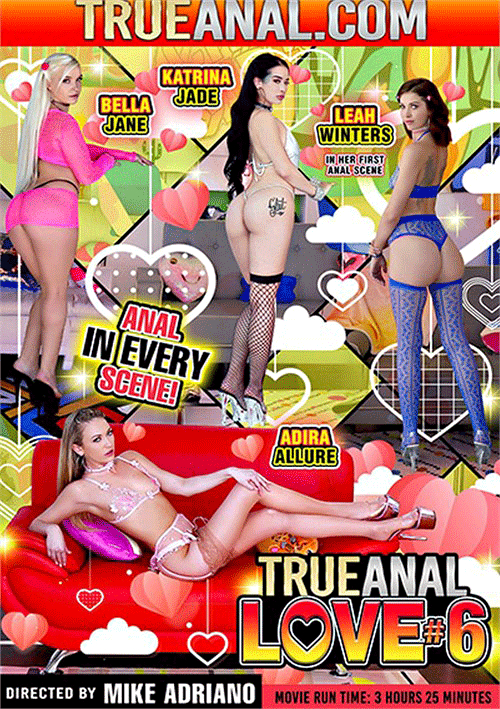 If they're not in true love, then these young women are most definitely in true anal love. In other words, they adore taking a big, stiff penis straight up their asses. And what a delightful, dying-to-get-their-derrieres-drilled roster we have in "True Anal Love 6," with this reviewer having a particular soft/hard spot for otherworldly brunette Katrina Jade, brilliantly concluding this sizzling sixth entry; while the three girls preceding Kat are anally amazing in their own special ways.
Adira Allure first gets majorly throat-fucked by veteran swordsman Steve Holmes (love Aid's saliva drip-drip-dripping onto her pert tits), while alluring Allure also likes to eat man-ass (hooray!); her big, round, voluptuous rump in full glory during missionary (yes, missionary!); "tastes like fucking candy," she says during one of her many ATMs, with Holmes going back and forth 'tween this "sodomy fucking slut's" (her words) twat and (winking at times!) backside; cowgirl-anal being another major source of enjoyment what with that in-yer-face booty; Allure ultimately getting her gaping butthole filled with Stevie sauce during a spirited session of doggie. "I can feel it dripping into my stomach," she chimes, after which Aid squeezes out the jizz into a martini glass, along with some squirt ("Now it's a real drink!" she proclaims), before downing it all with gusto. Good girl! "So refreshing," she announces. Damn!
Highly attractive Leah Winters is a killer spinner, sporting more of a classic tight butt (not too large, but large enough), in my other favorite scene next to the Katrina Jade interlewd; with Leah really gagging on Mike's raging boner as she works her mouth like crazy all over his shaft; doggie being a movie highlight with "big gapes" and plenty of warm smiles from Leah; "My asshole takes your dick so well," she glows during cowgirl-anal, with some more awesome anus-distention action. We also get sweet ATMs and gnarly manhole rimmings from lascivious Leah, whose ridiculously cute face is highlighted during missionary-anal (along with her meaty thighs and flawless-looking vadge), before our man Mikey dumps boy butter inside her butthole during said mish-pozish; our girl squeezing the liquid love into another martini glass and (yep!) fully imbibing whatever's leaked out of her soppin' slit, licking that glass sparkling clean! Yeah!
Blonde Bella Jane is a highly fuckable little tart, with a marvelously traditional big booty (shake it, Bella!); hell, wait until you see her bend over and arch that butt for Mikey to eat (whew!); cowgirl- , doggie- and spoon-anal (especially the latter!) totally display her fantastic fanny when it's all oiled up, as it burns Adriano's dick to cinders; Mikey leaves his sperm inside Bella-booty during spoon, after which she pushes it into yet another drinking receptacle and downs it like a shot o' whiskey. Bella's definitely the kinda gal you'd dream of meeting at 2 a.m. in a bar (remember those?) and take home for one helluvan evening.
And we end with an apocalyptic scene, indeed, as scrumptious Katrina Jade (perfect face, ass and tits!) gets her tonsils, twat and tukus obliterated by lucky Mikey. After a world-class deepthroating (best in the movie!), that's balls-deep, with tons and tons o' spit, Kat delivers some thumbs-/dicks-up cowgirl-anal, complete with romantic gapes. Doggie-anal is pretty much off the scale, as Kat uncontrollably, incoherently mumbles during multiple, breathless orgasms; while reverse-cowgirl-anal is shot as cowgirl, thus treating us to more of that superior posterior, followed by some frontal views, letting us soak up Kat's sleepy eyes, lush mouth and incredible breasts; Mikey ejecting seed into her during said reverse-cowgirl-anal, after which carnal Kat slowly releases the jizz. "Cum-filled asshole," she dreamily purrs. "So fucking hot… I love my ass filled with cum… it's literally just pouring out of my ass." She ain't lyin'! Wow! Best anal-creampie in the movie! Hey, Kat doesn't have "Slut" tattooed onto her right thigh for nothin'!
"True Anal Love 6" is nothing short of volcanic, with Katrina Jade delivering a legendary buttfuck-creampie scene; while the other three lassies, especially Leah Winter, deliver their own unique, nuclear ass-blasting performances.