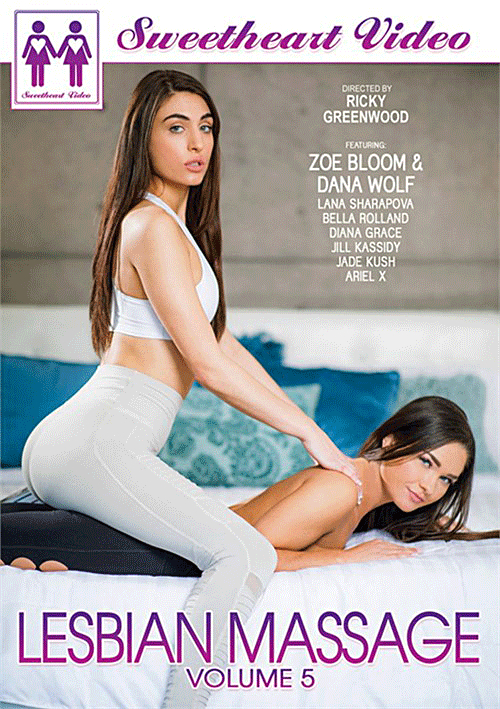 Sweetheart Video presents a collection of lesbian scenes revolving around the eroticism of massage.
"A Perfect Body" (Jade Kush and Ariel X):
Veronica (Jade Kush) opens this tale with some voice over work giving exposition to her motivations for the benefit of the audience. She loves touching the female body, and she makes clear her distinct desires regarding what turns her on about the female form. This is a good way to get the audience primed for the action. We learn what motivates Veronica, and we get an expectation of how she might react to her client. That's a good setup.
The client turns out to be the hardbodied Bella (Ariel X), and we get a nice play on the proverbial striptease as she undresses and gets situated on the table. Staying true to the fantasy, we spend a lot of time witnessing the sensual massage as Veronica slowly rubs her hands all over Bella's body, playing into her voiceover fantasy from earlier. When Bella mentions that she wishes she could get an all-day massage but likely couldn't afford it, Veronica suggests Bella has something of value to her.
I love the way Ariel grabs Jade's hand and aggressively shoves it into her pussy. It's a nice visual expression of the built-up sexual tension exploding from within her. Ariel looks fantastic in every position with her toned body oiled up. I also enjoyed the use of close-up shots, particularly on the faces of the performers. It really puts you in tune with their pleasure. The unique scissor is the highlight of the scene. Ariel is downright guttural in this moment and her deep grunts create an erotic symphonic contrast to Jade's soprano whimpers.
"Touch Me Like I've Never Been Touched Before" (Jill Kassidy and Lana Sharapova):
One of Jane's (Jill Kassidy) regular clients calls unexpectedly and leaves her an exciting voicemail. She's finally broken up with her boyfriend and come out as gay to her parents. With the immense weight of hiding who she is lifted from her shoulders, Jessie (Lana Sharapova) is hoping to get into Jane's spa for a day of relaxation and celebration. Jane's own experience with coming out motivates her to support her newly liberated client, and she agrees to fit Jessie in.
I really enjoyed the conversation between these two that leads up to the sex. Jessie talks about the stress of coming out and leaving the man she thought she was going to marry behind, the pressure to deny her feelings as a phase, and the relief of no longer having to pretend. Jane is wonderfully supportive. She listens, affirms Jessie's fears and triumphs, and reassures her through her doubts.
It feels like a genuine conversation and I can imagine many women who are attracted to women that watch this will feel a strong connection to the characters in this moment. Eventually Jane buries her face in Jessie's muff hungrily with the promise of ensuring she feels good on her special day, and boy does Jane deliver. Lana, face-down-ass up, with Jill simultaneously rimming and fingering her is easily the winning moment of the scene.
"A Friendly Touch" (Zoe Bloom and Dana Wolf):
After a brutal cramp ends Jessica's (Zoe Bloom) workout early, Betty (Dana Wolf) helps her injured friend to the bedroom to lie down. Rather than chastise Jessica for not properly hydrating, Betty decides to ease her friend's pain with a gentle rubdown. Of course, this leads to a sensual, sexual encounter.
It was very erotic to watch Dana rub her bare tits along Zoe's back. That is something massage porn should definitely do more of. There's also a wonderful shot of Dana spreading Zoe's ass cheeks apart as she kneads her buttocks that kicks ass. Director of photography Matt Holder deserves high praise for capturing it such a splendid visual.
In fact, ass fans will really enjoy this scene because there are lots of shots that embrace the derrière including a scalding face-sitting sequence where Zoe grinds herself to orgasm on Dana's wagging tongue.
"Happy Anniversary My Love" (Diana Grace and Bella Rolland):
On their one-year anniversary, Kate (Bella Rolland) plans a romantic evening with her lover Tania (Diana Grace), complete with rose petals on the luxurious hotel bed and a gift of sexy lingerie. Not to be outdone, Tania reveals her own gift for Kate: a sensual massage. One thing leads to another and before long, the precious couple finds themselves wrapped in passion's erotic embrace.
I really want to give Bella Rolland (one of my favorite performers) credit because she feels like a natural actor here. Her dialogue comes easy and is full of life and emotion, allowing Diana to play off her performance nicely. There is some great tease camera work in this scene as well. The close-up of Diana dripping oil on Bella's pubic hair is incredibly hot and helps build the anticipation for the ensuing sex. The devious smile on Diana's face only heightens the sensation.
When Diana finally lets her tongue touch Bella's clit, Bella's reaction is a combination of pulsating hunger and gratitude. She responds by promptly bending Diana into a piledriver and diving into her pussy and asshole ravenously. This is the position of the movie and I'm so glad it lasted longer than a few heartbeats. The audience really gets the chance to revel in the glory that is Bella feasting on a physically vulnerable yet wanton Diana.
Massage porn practically writes itself, but it can be repetitive without an external story to anchor it. Director Ricky Greenwood demonstrates his understanding of this pitfall by ensuring each scene is accompanied by an interesting narrative. Nica Noelle does a great job co-writing on this film and the genuine nature of each tale elevates the sex. Bella Rolland is a gem and Ariel X's powerful aura commands her scene with Jade Kush wonderfully.